The Klondike Gold Rush was a turning event in the Yukon's history. A party led by Skookum Jim Mason discovered gold in Bonanza Creek, a tributary of the Klondike River, in August 1896. An estimated 30,000 to 40,000 people braved numerous hardships to reach the Klondike gold fields in the winter and spring of 1897-1898 after the discovery became known in 1897.
Chart of gold production in Yukon 1892–1912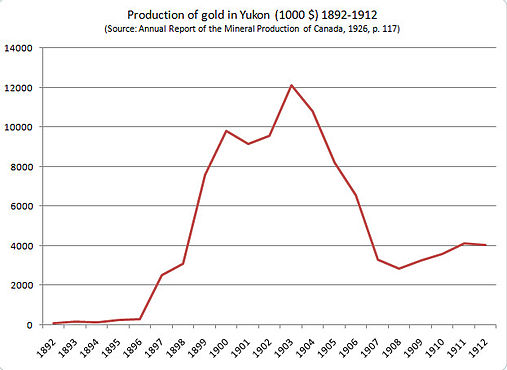 The Keno Hill Camp was one of the great mining camps of Canada; it was not only Canada's second largest primary silver producer and one of the richest Ag-Pb-Zn vein deposits ever mined in the world, it was also one of the mainstays of the Yukon economy from the 1920s, after the rapid decline of the Klondike Goldfield, until the early 1960s. At its peak in the 1950s and early 1960s, it supported about 15% of the territorial population. It also produced more wealth than the Klondike. Following a small amount of hand mining between 1913 and 1917, larger scale production was almost continuous from 1919 to 1989, except during the war from 1942 to 1945. Two companies produced most of the ore, Treadwell Yukon Corp. Ltd. from 1925 to 1941, and United Keno Hill Mines Ltd. between 1947 and 1989. Both companies went bankrupt when silver prices failed to increase as quickly as mining costs. About three years of uneconomic 'reserves' remained at closure.
Total Ag production from the Keno Hill Camp was 214.04 million oz. from 4847 million tonnes of ore from 38 mines.
The Faro mine was opened in 1969. From the late 1960s until 1982 the mine became one of the largest lead-zinc mines in the world. At one time it was the largest open-pit mine in the world. During its history, 320 million tonnes of waste rock was removed to access the ore. The mine remained in more-or-less constant production until 1982.
An 18-month waste-rock stripping program was operated at the Faro mine in 1983 and 1984. Curragh Resources purchased the property in 1985 and production resumed in 1986. This operation ended in 1993. A third operation, by the Anvil Range Mining Corporation, opened in 1995 and ceased production in January 1998.
Total production from the Faro mine was 3.97 billion pounds of lead, 5.89 billion pounds of zinc and 52 million ounces of silver.
Mining declined in the Yukon during the 1980s and 1990s except for two mines.
The Whitehorse Copper mine produced 51 million pounds of copper, 3 million ounces of silver and 250,000 ounces of gold between 1967 and 1982.
The Brewery Creek mine produced 277,000 ounces of gold over its short mine life from 1996 to 2000.
The Yukon continues to attract significant exploration and development dollars with several projects at an advanced development stage.