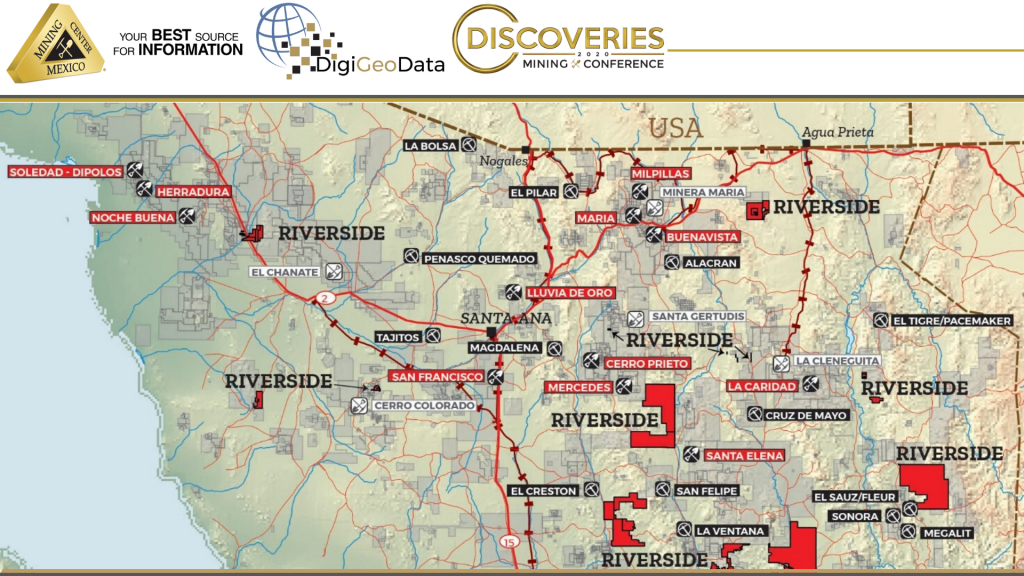 DigiGeoData and Mexico Mining Center Announce Strategic Alliance in Conjunction with the Discoveries 2020 Mining Conference
Hermosillo, Sonora, June 8, 2020 – Mexico Mining Center and DigiGeoData are pleased to announce they have formed a strategic alliance to bring the latest updated versions of Mexico mining property maps as part of the welcome kit for the attendees at the upcoming Discoveries 2020 Mining Conference. The maps will be available in both digital and paper versions and will provide information on resources, production, endowment, technical reports, geology, and base concession data. Sponsor company projects are highlighted in color, showing their relationship to new discoveries, deposits, and mines. Not only are the maps informative, but they also make an attractive display for any office wall.
The planned maps will cover three regions: Northern Mexico, Central Mexico, and Southern Mexico. DigiGeoData welcomes you to contact them if you would like to be a sponsor of the maps and highlight your property information. The deadline for sponsorships will be the end of July and the maps will be available online in August with the printed versions available in September/October. We encourage you to visit the online version of the maps prior to their official release at the following link: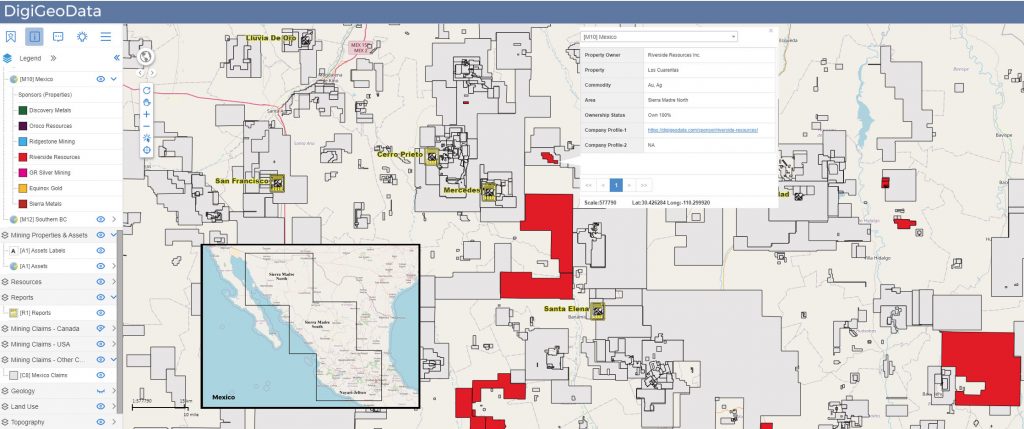 Planned outline of Mexico map coverage
The Discoveries Mining Conference will be held November 11 – 13, 2020 at the Expo Guadalajara, Mexico's largest and most modern convention center, in the beautiful and traditional city of Guadalajara, Jalisco, a modern financial and cultural center that has world-class restaurants and hotels and excellent communication by air and land.
Discoveries is one of the foremost international conferences focused on mining exploration, innovation, and development. The conference will feature an exhibition area with 200 booths and over 50 presentations on a wide variety of topics ranging from new mineral discoveries to the latest technology and concepts being applied to all stages of mining.

For more information, please visit www.discoveriesconference.com.
About DigiGeoData
DigiGeoData strives to increase opportunities for mining companies to highlight their property information and to communicate their corporate story. The company has developed a powerful digital map interface, offering clients the ability to show updated information about their properties including mines, deposits, ore zones and reports. DigiGeoData's management team is led by Glen Jones, President & CEO, with over 40 years of experience in producing maps for the mineral resource industry and developer of the Hot Play map concept, featuring rapidly developing areas around the world.
About Mexico Mining Center
Mexico Mining Center provides accurate, up-to-date information on mining exploration and development in Mexico and is one of the pioneers of digital marketing applied to the mining industry. Mining professionals from around the world visit Mexico Mining Center's website each day to find out about the latest discoveries, corporate updates, expert commentary, and available mining properties. Mexico Mining Center is the organizer of the annual Discoveries Mining Conference, a high-level technical conference focused on mining exploration, innovation, and development with an emphasis on providing excellent networking opportunities for the mining sector. Douglas Coleman, President & CEO, is a geological engineer graduated from the Colorado School of Mines with over 30 years of experience in mining exploration in Mexico.
For more information, please contact:
Mexico Mining Center
+52 (662) 688-5815
Or
DigiGeoData
+1 (647) 285-5636