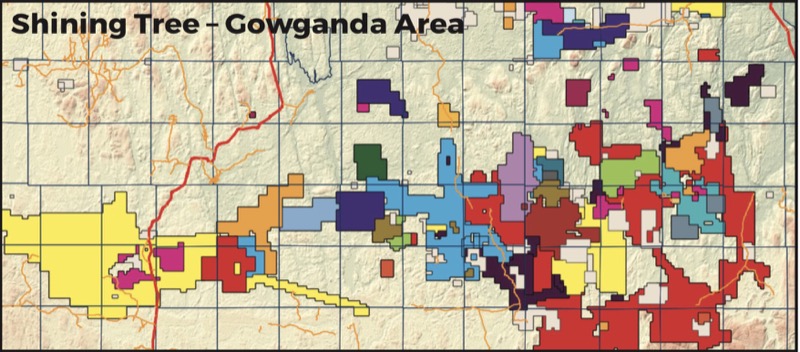 Go to Shining Tree – Gowganda Area
DigiGeoData (DGD) continuously monitors exploration activities in active mining regions of Canada and provides data through the DGD-Web-DataSite, DGD-Web-Map, as well as printed maps.
The Shining Tree – Gowganda area is a unique mining camp in Canada and has been very active for silver and gold mining and exploration for over 110 years. Secondary commodities in the area includes cobalt, nickel and copper.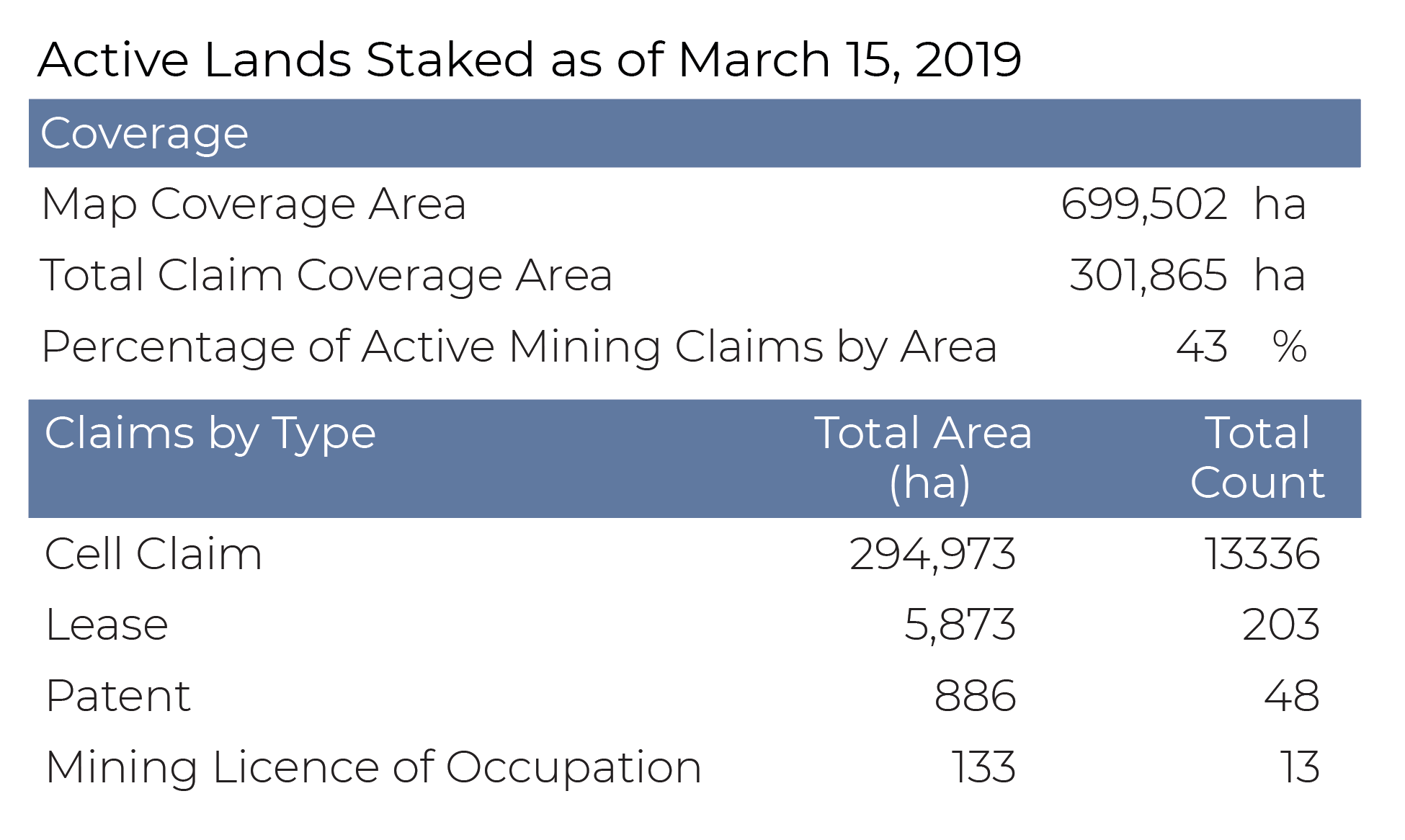 The DGD Shining Tree – Gowganda map area covers about 700,000 hectares of land located in central Ontario, about 125km north of Sudbury. The current active mineral claims cover approximately 43% of the area or just over 300,000 hectares of lands being explored. These staked lands are mainly centered within the favorable mafic or ultramafic metavolcanics or intrusive rocks whereas the rest of the available open lands cover sandstones or granitic rocks.
There are four types of mining claims in the area. Cell claims account for 98% of the total claims covering 295,000 hectares whereas patents, mining leases and mining licenses represent just 2% of the total claim area. Cell claims are the newly introduced online system of staking based on the Ontario provincial grid.
All previous manual ground and paper staked claims were converted to the new cell claims on April 10, 2018.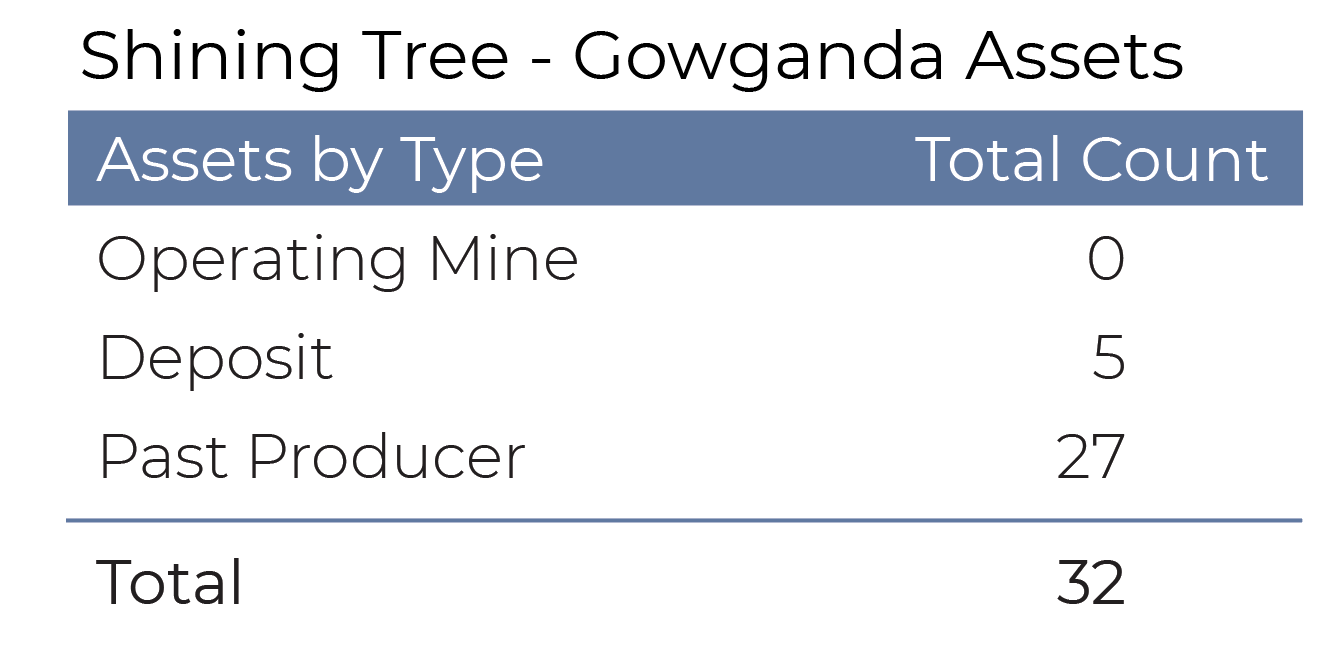 DigiGeoData has compiled 32 mining assets in the area that includes 5 deposits (with compliant reserves and resources) and 27 past producing mines. There is no current mine production in the area but the ShiningTree – Gowganda area has historically produced 37,600 ounces of gold and 71.8 million ounces of silver over a period of 74 years (1910-1984).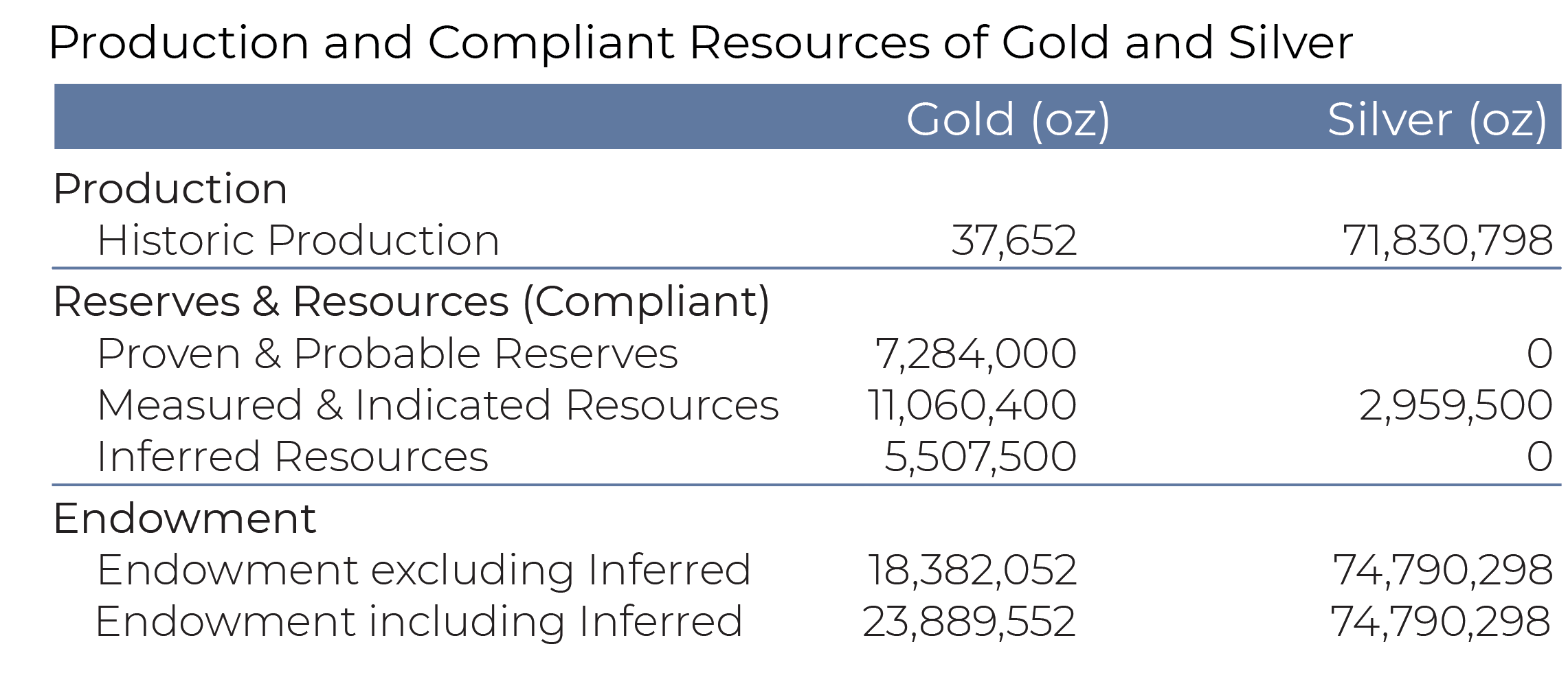 There are still significant amounts of in-situ gold and silver in the area to that are being explored as indicated in the table. This includes total 23.85 million ounces of gold (proven & probable/ measured & indicated/ inferred) and 3 million ounces of silver (measured & indicated).
The Shining Tree – Gowganda area includes 13,336 active mining claims registered with 108 types of ownerships (100% full ownership or joint ventures) of listed companies, private companies or individuals. Most of these claims (95%) were previously staked and converted into cell claims on April 2018. Claim activity was very limited in the area in the last 11 months and only 698 newly staked claims were reported adding 19,959 hectares. Monthly comparison of staking activity of this 11-month period reveals that land ownership has increased and decreased depending on exploration budgets. There were three spikes of claim staking of this period adding 5,383 hectares (27%) in September 2018, 4,138 hectares (21%) in December 2018 and 4,550 hectares (23%) in January 2019.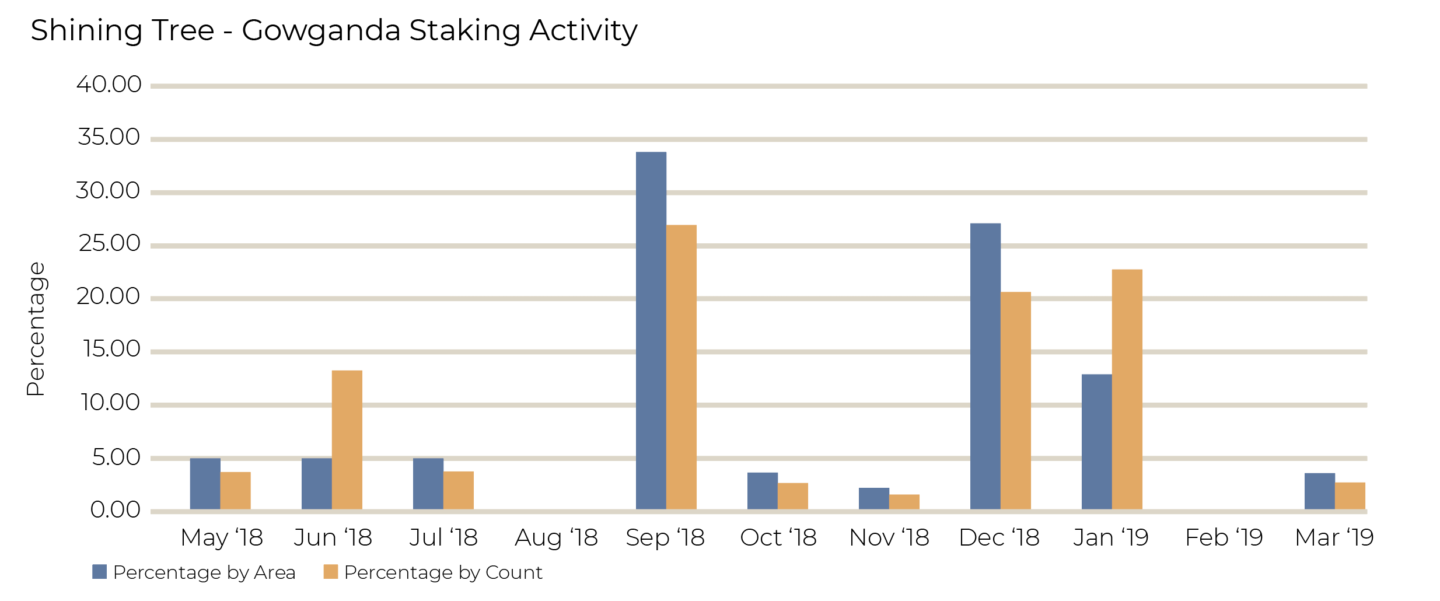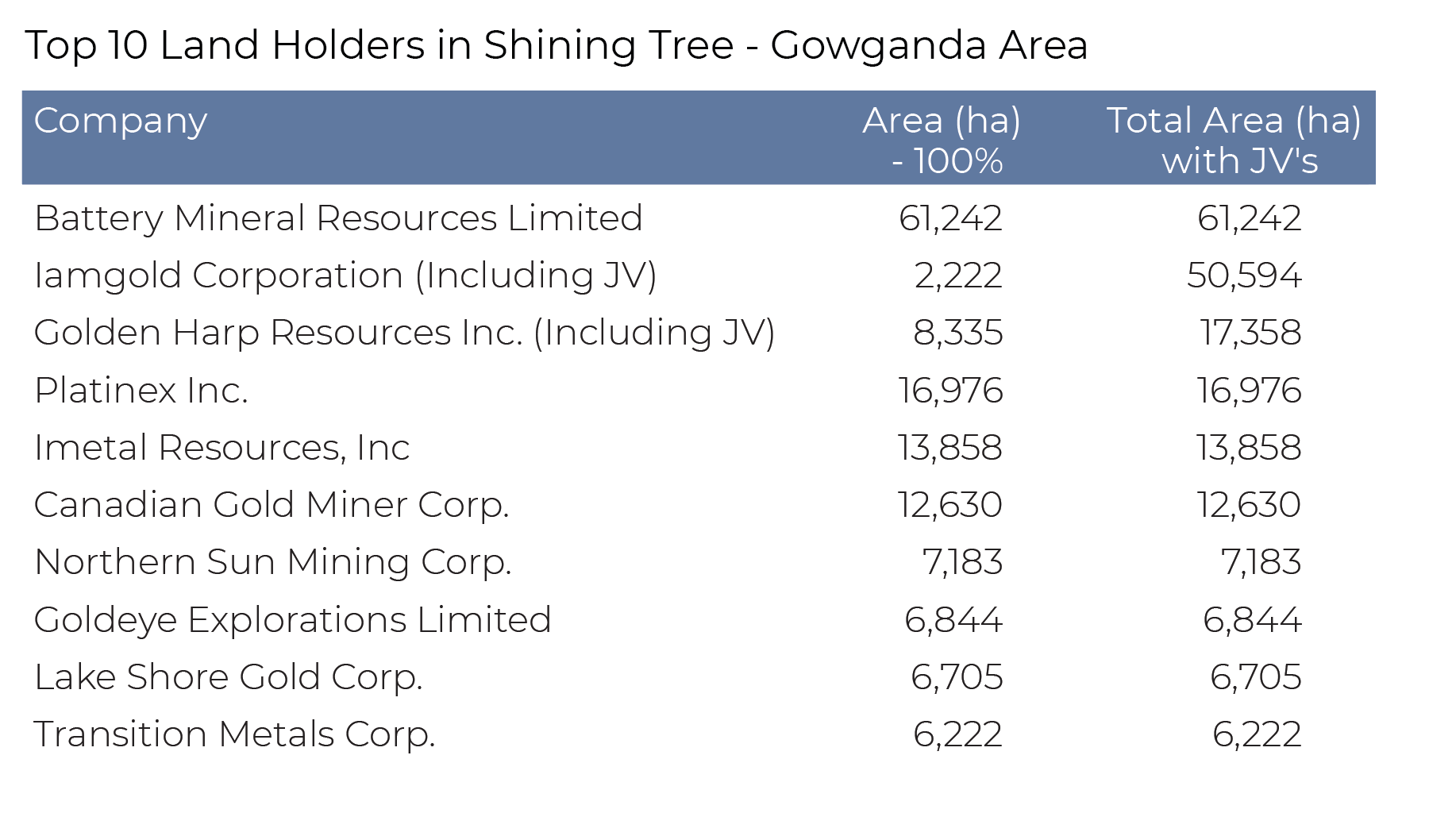 Battery Mineral Resources and Iamgold Corporation are the two major land holders in the area that account for 61,242 and 50,594 hectares respectively. Golden Harp Resources, Platinex, Imetal Resources, Canadian Gold Miner, Northern Sun Mining, Goldeye Explorations, Lake Shore Gold and Transition Metals were among the other top 10 land holders in the area where each company reports land area between 6,000 and 17,500 hectares. The current staked cell claims in the area are mainly controlled by these top 10 land holders which account for 68% (200,000 hectares) of the active mining claims.
On March 1, 2019, Canada Cobalt Works reported planning of developing a cost-effective near-term recovery of gold and silver mineralization from a historic tailing area approximately 300 meters from the #3 Shaft at the Castle mine.
If the price of gold and silver rises, this area may see a further increase in exploration.