About Ashley Gold Corp
Ashley Gold Corp Highlights
Tight share structure with strong IPO shareholders ~16.8MM shares issued.
Historical Ashley Mine Project in need of modern-day mining techniques with past gold and silver production in the Abitibi Greenstone Belt of Ontario.
The management team has a strong capital market sense that is aligned with shareholders. The team has put together conservative, near-term exploration ideas that will help understand the true value and economics of the Ashley Gold Mine.
About Ashley Gold Corp
Ashley Gold Corp (CSE:ASHL) is a publicly traded company listed on the Canadian Stock Exchange.  Ashley Gold was created to hedge against global inflationary pressures by investing in lower risk precious metals opportunities. With a conservative approach to capital structure, opportunity identification, and prudent exploration, Ashley Gold is positioning itself to maximize shareholder potential.
The Ashley Gold Property
The Ashley Gold Mine Property is located in Ontario, Canada within the Abitibi Greenstone Belt along the Cadillac-Larder Fault Zone. The Abitibi has produced over 200 million ounces of gold with approximately one third coming from the Cadillac Larder Lake Fault system. The Ashley Gold Mine is just 17 km to the east of the historical Stairs Mine and 17 km to the west of Alamos' Young-Davidson Mine that contains an estimated reserve of 3.39M oz Au (P&P) and a resource of 936,000 oz Au (M&I).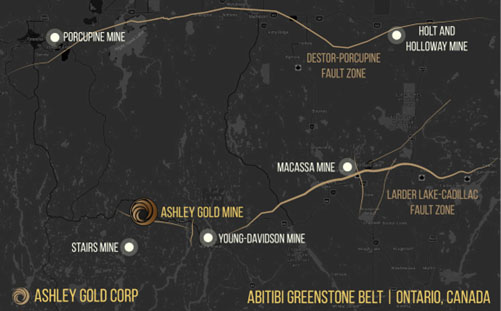 The Ashley Gold Mine property was optioned to the company as a qualifying project for Public Offering.  The property includes a past producing underground Gold Mine that has several vein hosted, high-grade gold-telluride systems, many of which outcrop on surface. Historical production is estimated to be approximately 50,099 oz of Gold and 7,344 oz of Silver from 157,636 tons of ore (0.32 oz Au/ton or 9 g/t Au) between 1932 and 1937 from the main Ashley vein (Petromet Resources Ltd. 1982). Production was never restarted after World War II, even though the vein was open along strike and at depth.
In addition to the Ashley Mine Vein, historical surface exploration work documents 7 gold bearing veins on the property where high grade samples ranging greater than 300 g/t Au have been assayed out of the Garvey and No. 1 Veins. Historical stripping and bulk sampling have shown good lateral grade continuity across strike lengths of over 250m. The Garvey Vein, located 1.3km northwest of Ashley Mine produced a 26-ton bulk sample that yielded 0.86 oz Au/ton or 24.4 g/t Au (Petromet Resources Ltd. 1982).
Deeper syenite hosted potential exists across the property and will be tested in upcoming exploration programs. Waste rock from historical mining operations has been sampled and may provide an additional opportunity for near-term cash-flow.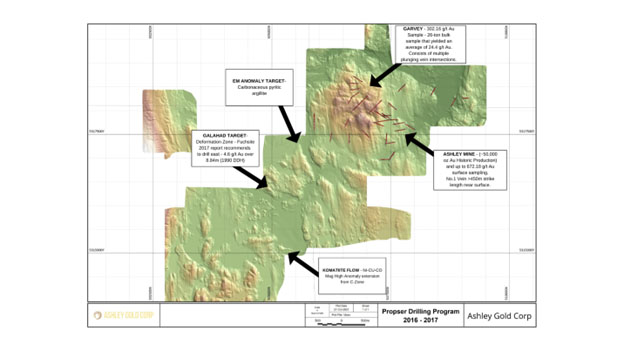 To learn more about Ashley Gold Corp, go to https://ashleygoldcorp.com/
To learn more about the mining activity in the Kirkland Lake area and to view the digital map, go to https://digigeodata.com/area/kirkland-lake/