About Benchmark Metals
Benchmark Metals Inc. (TSX.V: BNCH) is a well-funded mineral exploration company focused on proving and developing the substantial resource potential of its 100% owned 145 km2 Lawyer's Gold and Silver project, located within the prolific Golden Horseshoe of northern British Columbia, Canada.
Benchmark Metals is led by a dynamic group of resource sector professionals who have a strong record of success in evaluating and advancing mining projects from exploration through to production, attracting capital and overcoming adversity to deliver exceptional shareholder value.
Lawyers Gold-Silver Project
By rapidly advancing the Lawyers project Benchmark has recently produced a maiden bulk-tonnage resource estimate at its Cliff Creek, AGB, and Dukes Ridge-Phoenix zones, as well as identified an additional +18 near-surface low sulphidation gold and silver prospects spanning the +20 kilometre Lawyers Trend. The company has recently commenced one of the largest exploration programs in Canada that includes a minimum 100,000 metre drilling in addition to extensive soil and rock sampling, ground magnetics, airborne VTEM geophysics, and IP surveys. The company anticipates its methodology could discover significant gold-silver ounces across the largely underexplored land package, in addition to expanding and upgrading the classification on its resource.
The project is road-accessible from Prince George, located 475km to the southeast, in addition to fly-in access from regional airports through the nearby Sturdee airstrip. Connection to the power grid is also available at the Centerra Gold Kemess Mine located 45km to the southeast.
Lawyers Project Highlights
Exploration on the Lawyers project and the surrounding area began in the late 1960s and peaked in the 1980s, identifying numerous showings, prospects and deposits that culminated in limited production of 171,200 oz gold and 3.6 million oz silver through 1989 to 1992. The limited historical underground production at the Cliff Creek and AGB zones focused on extracting ore from high-grade veins within the large epithermal system; of which Benchmark later determined had the potential for previously unrecognized bulk-tonnage, near-surface intercepts that enveloped the higher-grade intervals of gold and silver mineralization.
Resource Zones:
Since acquiring the district-scale Lawyers project in 2018 Benchmark has rapidly expanded the footprint of known resource zones along-strike and depth, which continue to remain open in all directions. In 2021 a maiden bulk-tonnage resource was produced including 2.1 million ounces of 1.62 g/t AuEq indicated and 821,000 ounces of 1.57 g/t AuEq inferred at the Cliff Creek, AGB, and Dukes Ridge-Phoenix zones.
Select resource expansion zone drill results include:
High Grade Drill Results*
3.00m at 259 g/t gold & 3,320 g/t silver – AGB
3.05m at 52 g/t gold & 846 g/t silver – Dukes
2.40m at 87 g/t gold & 2,407 g/t silver – Cliffs
0.90m at 132.5 g/t gold & 8,560 g/t silver – Phoenix
Bulk-Tonnage Drill Results*
69.45m at 1.76 g/t gold & 1719.46 g/t silver – AGB
33.53m at 5.76 g/t gold & 128.65 g/t silver – Dukes
64.00m at 2.29 g/t gold & 191.3 g/t silver – Cliffs
26.00m at 2.42 g/t gold & 100.26 g/t silver – Phoenix
*Drill core length with true thickness estimated at 80-90%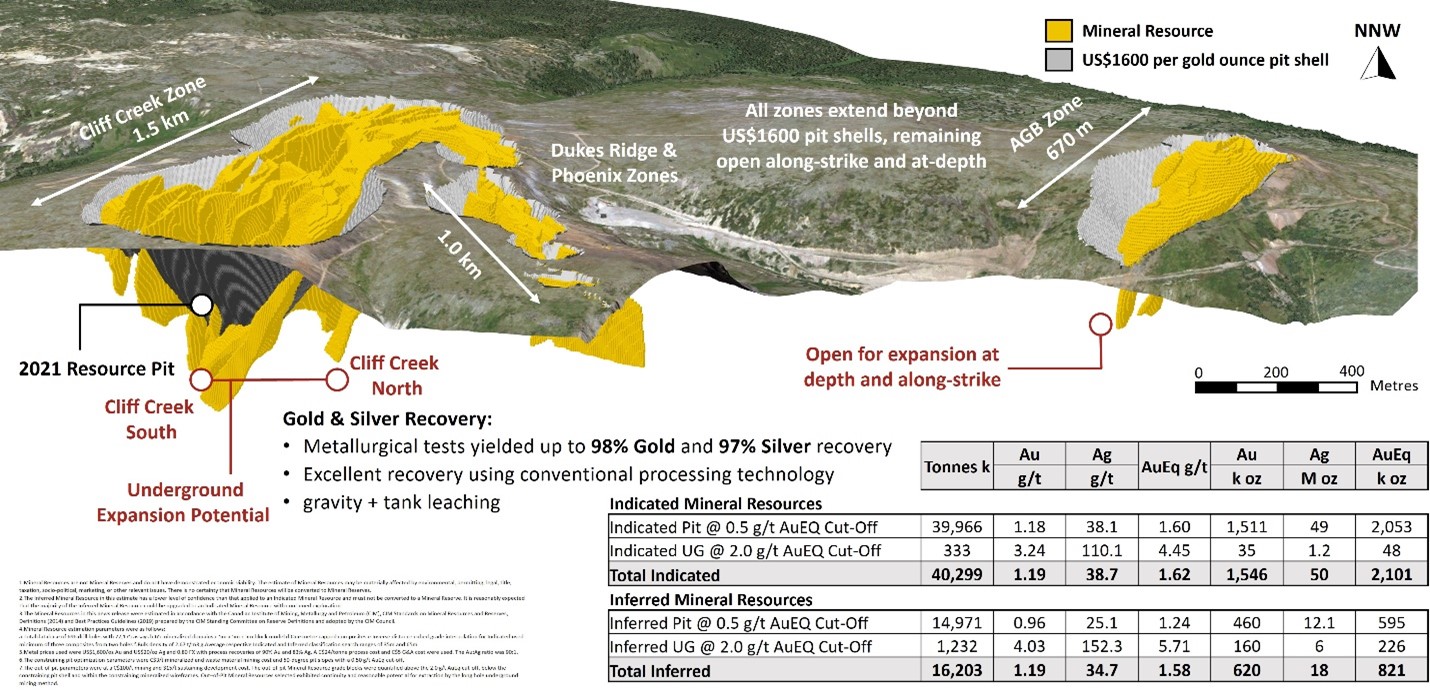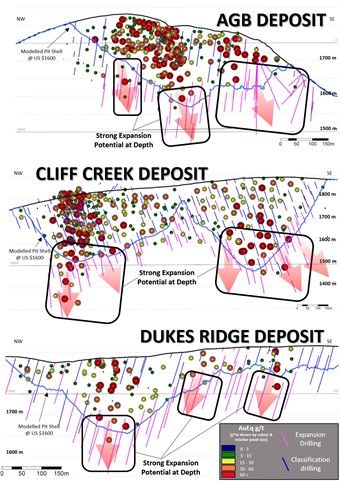 New Gold-Silver Discovery and Exploration Targets:
There remains significant potential through continued exploration to expand known zones and make new discoveries along the +20 kilometre Lawyers Trend; this includes initial high-priority exploration drilling at the Marmot, Marmot East, M-Grid, Gifford's Edge, Lala, and Silver Pond target zones. Highlights include:
Two new discovery zones on the periphery of the resource zones, these are the Marmot and the Silver Pond zones, that latter encompassing the Silver Pond Clay and Silver Pond North targets. In 2020 the discovery hole at Marmot intercepted 101.0 metres (core length) of 0.82 g/t AuEq that included 18.0 metres of 2.5 g/t Au; demonstrating the potential for generating new, at-surface gold-silver ounces within this zone.
An additional +8 exploration and +10 gold soil anomaly targets also that exhibit the same type of anomalous and coincident geological and geophysical features that are seen within the resource zones, with select rock grab samples assaying up to 51.62 g/t Au and 1508 g/t Ag.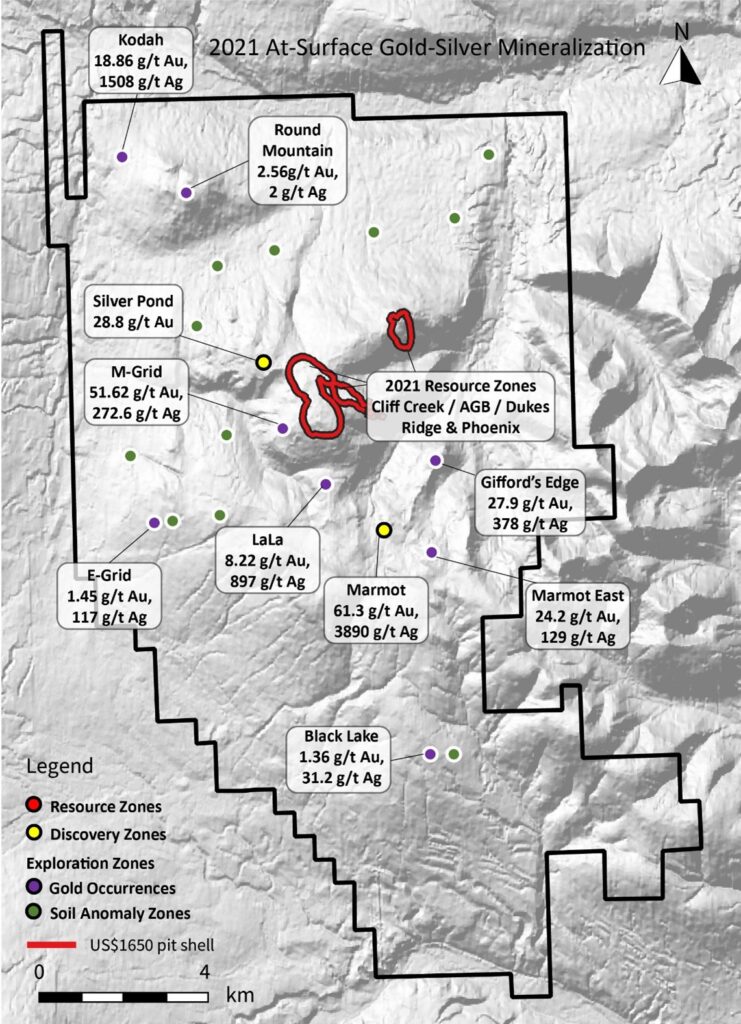 To learn more about Benchmark Metals, go to https://www.benchmarkmetals.com/
For more on the activity in the Toodoggone District and to view the digital map, go to https://digigeodata.com/area/toodoggone/