About Bureau Veritas
195 yr. old Partner to the Global Mining Industry
 Bureau Veritas is a 195yr. old global provider of Environmental, geochemistry, geoanalytical and mineral processing services to the exploration and mining community. We are by your side throughout the mining value chain: exploration, extraction, processing and transportation & mine closure. Our services are structured to support the life cycle of your assets, from planning and design through procurement of components and equipment to construction and operation:
REDUCE RISK in your construction projects through safety assessments, supervision and quality assurance.
ACHIEVE CONSISTENT QUALITY by controlling your supply chain and processes.
REASSURE LOCAL STAKEHOLDERS by demonstrating conformity with regulations and standards.
PRESERVE THE LIFE of your assets through Asset Integrity Management, inspection and non-destructive testing.
OPTIMIZE THE EFFICIENCY of your operations and maintenance activities.
ACCESS EXPERTISE throughout the world thanks to our global network of Technical Centers.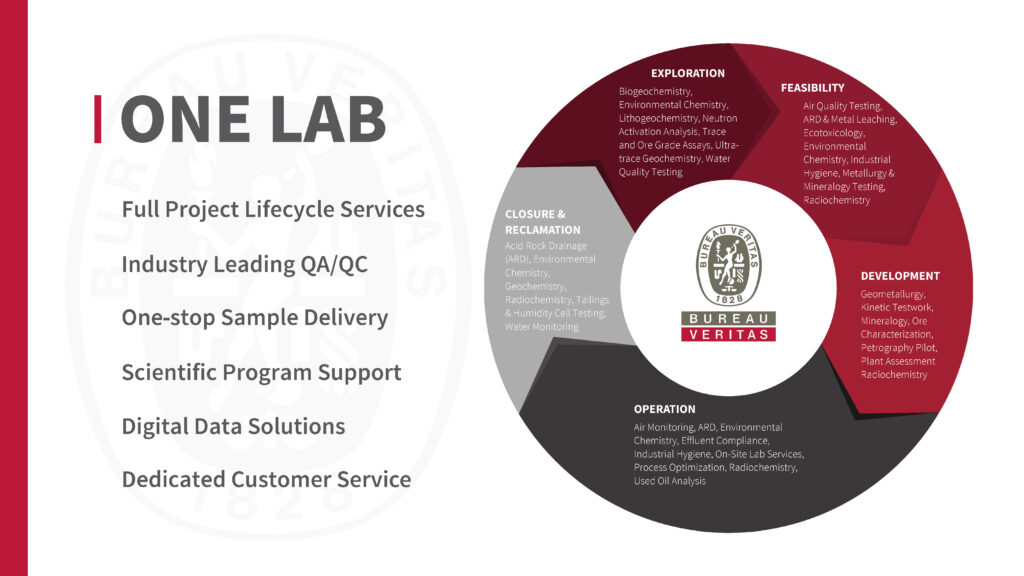 To learn more about Bureau Veritas, go to https://www.bvna.com/