About Genius Metals
Genius Metals Inc. (CSE:GENI) is a young mineral exploration company focused on acquiring, exploring and developing precious and base metal resource properties in Quebec, Nova Scotia and New-Brunswick. Its robust portfolio contains several strategically positioned early-stage mining projects, including its flagship Sakami gold project in Quebec, the Meaghers gold property in Nova Scotia and the A-Lake Cu-Sn-Zn property in New-Brunswick. The company has recently produced an updated NI 43-101 technical report on the Sakami property and will migrate its shares from the CSE to the TSX.V at some point during summer of 2021.
 The Sakami Property
The Sakami Property (100% owned by Genius) is composed of a set of 588 claims covering 302 km2 which straddles the structural contact between the Opinaca and La Grande geological sub-provinces in the James Bay area (Quebec). This contact is associated with many important gold mineralized zones such as Quebec Precious Metals' La Pointe prospect and most notably the Eleonore gold mine operated by Newmont.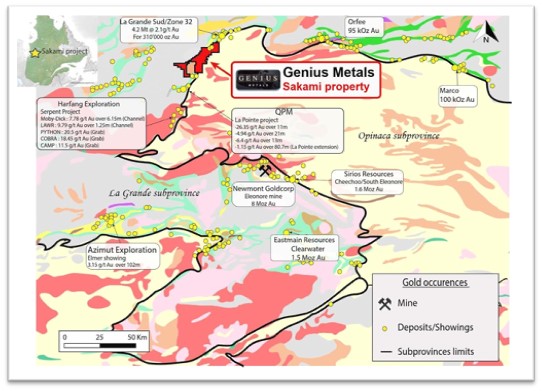 Immediately northeast of the Property, O3 Mining's La Grande Sud Property hosts substantial gold mineralization within Zone 32 (310,000 Oz Au). To the southeast, Quebec Precious Metals has recently completed a 25,000m drilling program and will follow-up with 15,000m this year with an expected resource calculation to come out in a near future.
Over the last two years, Genius Metals has conducted multiple airborne and ground-based geophysical surveys, as well as multiple prospecting campaigns. Prospection work included overburden stripping with the use of a mechanical excavator, rock sampling, channel sampling and mapping.
Two highly prospective drill targets have been established through the exploration program mentioned above: Lamarche (13g/t Au, 266g/t Ag, 0.47% Cu, 19.2% Zn, 5.56% Pb) and GoldenEye (up to 2.55 g/t including 1.02 g/t over 4.1m in channel sample). Both targets have been tested at surface and are well-defined with high-resolution geophysical surveys.
The main Lamarche zone on the property boasts gold mineralization across a large 500 meter by 350-meter shear zone/ deformation corridor.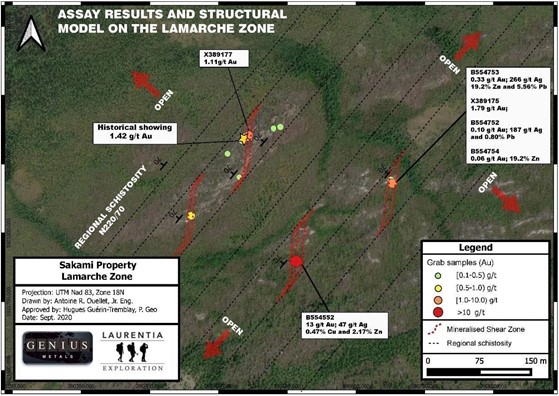 Additionally, its Golden Eye zone presents highlighted gold grades of 1.02 g/t gold over 4.1 meters with evidence of gold mineralization across every channel.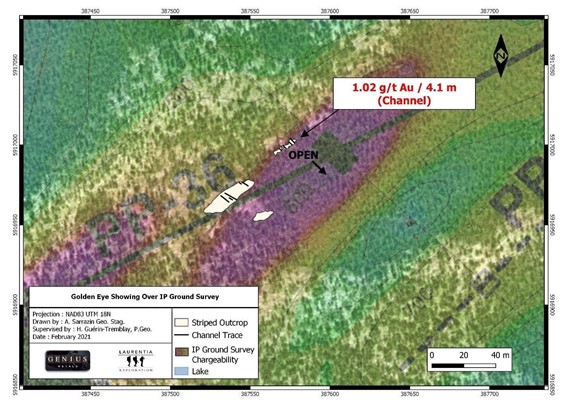 Genius Metals has completed the summer drilling campaign on the Sakami property, located in the James Bay Territory, and successfully attained all its set objectives. Three main sites, the Golden Eye, Lamarche and the northeast extension the main core zone structure, were drilled; seventeen holes were completed and 2,658 metres of core were obtained.  A preliminary evaluation of the core confirmed that the mineralization noted during the mapping and sampling campaigns of the last two years continued to depth. The Lamarche core material revealed several sphalerite, pyrrhotite and pyrite-rich intersections within deformed, sheared and altered metasediments accompanied by minor intermediate volcanic rocks.  The northeast extension is characterized by pyrite-bearing quartz-calcite-tourmaline veins invading metasedimentary and metavolcanic rocks. Finally, core intersections showing brecciated and sheared quartz veins with moderate epidotization/chloritization and pyrite, pyrrhotite and sphalerite stringers in wacke and basalts were encountered at the Golden Eye site. The geological characteristics of the mineralized intersections are similar to those observed in gold bearing surface samples. Assays are pending.
*On August 25, 2021, Genius Metals has filed a NI43-101 compliant technical report on the Sakami property which can be viewed on SEDAR.
To learn more about Genius Metals, go to http://www.geniusmetals.com/
To learn more about the activity in the James Bay area and to view the digitalmap, go to https://digigeodata.com/area/james-bay/