About Happy Creek Minerals
Rateria & West Valley Copper Property:
240 square km of mineral tenure that surround the southern side of the Highland Valley Copper (HVC) property between Merritt and Logan Lake, in the Quesnel Trough of southern B.C. HVC is Canada's largest open pit copper mine delivering approximately 1% of global copper production.
Happy Creek has carefully assembled its 240 sq km property over 14 years, a land position held by one company for the first time. The Company has discovered and partially delimited by drilling two new deposits that are currently around one km in strike, 75-150m in width, over 300m in depth and are open. Zone 1 results include 95m of 0.67% copper and Zone 2, 152.5m of 0.35% copper with additional moly, rhenium, gold and silver values.  In 2017 and 200m east of Zone 2, an exploration hole returned 5m of 4.4% copper, 6.86 g/t rhenium that is also open. Zone 1&2 have potential to expand and are 6.5km away from an existing open pit.
On the historically much less explored and under-appreciated West Valley property, the Company has conducted regional work to create our own geological picture which has identified several areas thought to have potential for copper deposits. In 2019 and 2020, geophysical, geochemical and spectral geological surveys combined with new copper showings at surface on the PIM target has identified an exciting opportunity for another new discovery. This 1.6 km X 1 km target is 5.5 km southwest of the giant Lornex pit and is planned for drilling in October 2020.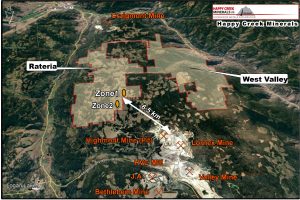 Highland Valley copper district looking south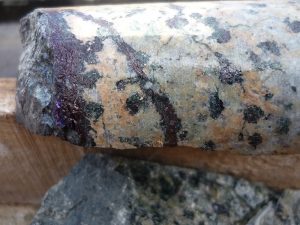 The Fox Tungsten Property
The Fox is a new from-scratch tungsten skarn discovery with similarities to the Cantung mine- a world class former producer located in the Yukon-NWT and very remote. The Fox property is located about 75 km northeast of the town of 100 Mile House in south central B.C. and road accessible. As of March 2018, the project hosts a NI43-101 open pit and underground resource of 582,400t of 0.826% W03 (indicated) and 565,400t of 1.231% W03 (inferred) that is today among the highest-grade resource in the western world and open. In addition, the Nightcrawler zone and other areas have returned drill results that are above cut-off grade and provide opportunity to expand resources. The Fox has delivered some of the best tungsten drill intercepts known and is thought to be on the cusp of a globally top-tier tungsten development project. Drilling is underway as of September 10th 2020, at the Nightcrawler zone.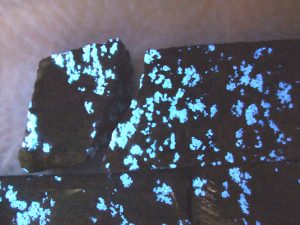 To learn more about Happy Creek Minerals, please go to https://www.happycreekminerals.com/
To learn more about the activity in Central BC and to view the map, go to https://digigeodata.com/area/central-bc/