About Jaxon Mining
Jaxon Mining is a Canadian-based exploration and development company pursuing the discoveries of commercial scope Ag, Cu, Au polymetallic projects. Jaxon applies an expert, model driven, multi-disciplinary exploration approach focusing on overlooked, underexplored, deeper, larger and higher-grade targets. Jaxon targets deeper intervals that have not been previously identified or adequately explored; in areas that often have not been systematically mapped, modeled, or drilled at depth. Jaxon's current focus is on the Skeena Arch, an exceptionally orogenic and metallogenic area, in one of the most richly endowed terrains in British Columbia. Jaxon's 100% controlled Hazelton property is host to seven projects: Netalzul Mt, Red Springs, Max, Blunt Mt, Mt Thoen, Rocher Déboulé Mt and Kispiox Mt. Jaxon is currently drill testing the Netalzul Mt and planning a drill program for Red Springs.
Hazelton Property
40 km northwest of Smithers, in northwestern BC, Canada
Near all infrastructure – 8 km to highway, railway and power, 40 km to airport and comprehensive service centre
724 km2 area with seven porphyry Cu-Mo and Ag-Au-Cu-polymetallic projects (Figure 1)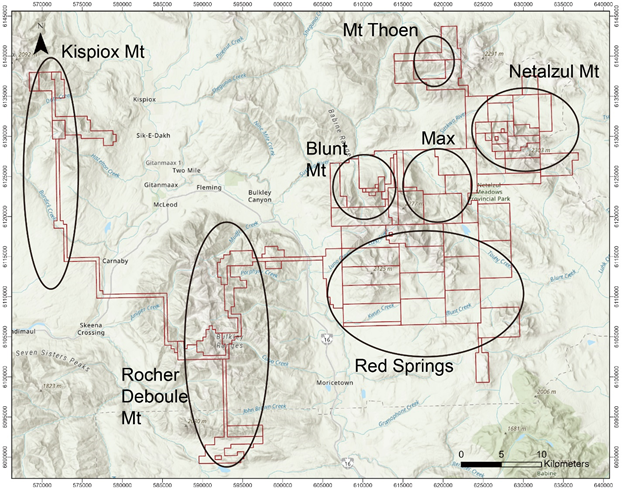 Figure 1. Claims map of seven projects on the Hazelton Property
Netalzul Mt Project
Extensive, high-grade, Ag-Cu-Au in fault-controlled sulfide quartz vein intermediate sulfidation (IS) epithermal mineralization driven by a Huckleberry-type Cu porphyry system:
Four zones with anomalous (high) Ag, Cu, Au, Mo, Sb, Pb and Zn in soils and rocks reported by XRF and laboratory assay: Daisy North Contact Zone, Daisy Central Zone, Daisy South Adit Zone and Daisy East Zone.
Highest Cu in soil anomaly is up to >10,000 ppm within the granite intrusion side of Daisy North Contact Zone, 5%, 24% and 45% of 683 soil samples with Cu grades greater than 1000 ppm, 500 ppm and 300 ppm, respectively.
Highest Cu grade in rocks is up to 3.45%, with Ag @ 1640 g/t, Au @ 5.9 g/t and Pb @ 6% at Daisy South Adit Zone.
Highest Cu grade in rocks is up to 2%, with Ag @ 230 g/t and Mo @ 0.1% at Daisy East Zone.
High-grade Cu-Ag-Au porphyry deposit with high-grade sulfide quartz veins and veins stockwork, clay alteration and strong magnetic, large, altered contact zone.
Rock samples at Daisy North Contact Zone contain Ag @ 5301 g/t, Zn @ 37.85%, Pb @ 29.18%, Cu @ 3.35% and Sb @ 2.32% (typical IS type deposit).
Sulfide quartz vein samples from Adit #1 portal area with Cu grades of up to 3.46%, Au grades of up to 5.91 g/t, Ag grades of up to 623 g/t.
Sulfide quartz veins samples and outcrop from Adit #2 area with Cu grade of 2.73%, Au grades of up to 3.96 g/t, Ag grades of up to 1641 g/t and Sb grade of 2.25%.
QV chip samples and outcrop with Cu grades of 0.58%, Au grades of up to 0.82 g/t, Ag grades of up to 442 g/t, Pb grades of up to 4.1%, Zn grades of up to 2.1% and Sb grade of 0.33% at Daisy Central Zone.
A grab sample with Cu @ 2.0%, Ag @ 75 g/t and Mo @ 0.1%, and a one-metre chip with Cu @ 1.5%, Ag @ 444 g/t and Au @ 1.5 g/t at Daisy East Zone.
The first three drill holes of the 2021 drilling season, NET21-01 (206 m in length, 315°/-48°), NET21-02 (233 m in length, 297°/-74°) and NET21-03 (341 m in length 0°/-90°), tested the high-grade silver polymetallic sulfide-quartz veining zones at Daisy South Adit Zone that extend more than 1,600 m (1.6 km) along strike as indicated on surface by outcrops and four artisanal adits. Patterns of alteration in the core indicate the presence of the deeper porphyry system that generated the mineralization.
All three holes intercepted multiple vein type high-grade Ag-Cu-Au-Mo polymetallic intermediate sulfidation mineralization from 19.7 m to 46.3 m in width (hole interception, not true width) of intense mineralized silver polymetallic sulfide-quartz veining zones and intense to medium chlorite, pyrite, chalcopyrite, potassic and silicification alteration from the beginning to the end of all three holes, which may contain low-grade and bulk tonnage Cu-Mo mineralization. It is projected that the grades of the Cu-Mo mineralization should increase with depth in proximity to the deeper porphyry target.
All core from the three holes have yet to be assayed, however, portable XRF scanning results report high-grade Ag, Cu, Mo and Sb potential. Based on portable XRF tests, four spot counts at 23.9 m from NET21-01 returned over 4,000 g/t Ag, 6% Cu and 2.9% Sb from tetrahedrite, and 6.6% Zn and 1.4% Pb from sphalerite and galena (Figure 2, core at 23.9 m from NET21-01).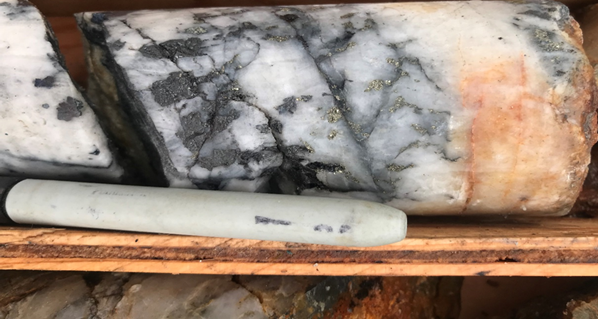 Figure 2. Core at 23.9 m from NET21-01 shows high-grade Ag-Cu-Sb-Pb-Zn. A portable XRF analyzer reported Ag grades of up to 20,000 g/t from the tetrahedrite mineral.
The 2021 drilling program includes approximately 4,000 m at Netalzul Mt, expected to be completed by mid-September.
Red Springs Project
Drill-ready Cu-Mo porphyry target, extensive mineralized, gold-bearing, tourmaline breccia zones/pipes:
A copper-rich porphyry system with multiple large-scale porphyries that generated an anomalous and large, gold-bearing tourmaline breccia zone, with piping back to the porphyries.
With a well-developed, large porphyry style alteration zone (4×1 km).
Marked by three Late Cretaceous K-feldspar disseminated sulfide granodiorite outcrops.
Tourmaline breccia zones/pipes (1 km2 and 26 m thick) with high-grade gold-copper-cobalt (up to 8.20 g/t Au Eq).
With high-grade massive sulphide and sulphosalt vein hosted (Ag-Sb-Au-Cu) instances.
Three strong Cu-Mo in soil anomalies (Cu > 500 ppm, typically 300 ppm in BC). Cu/Zn ratios highlight two big centres in the Razorback and Primary Ridge target area which present typical porphyry system characteristics.
High-grade rock samples (up to 8% copper) from Cu in soil anomalies area and tourmaline breccia zone/pipe area.
Intrusions with disseminated Cu sulfide mineralization discovered in these three Cu, Mo in soil anomalous areas which indicate the source of the strong Cu and Mo anomalies. All three Cu-Mo in soil anomalies extend more than 2 km long and approximately 1 km wide, which indicate the potential distribution range of Cu-Mo porphyry mineralization.
Multiple high-grade (up to 33 g/t Au and 8% Cu) Au, Cu, Co samples in North Cirque tourmaline breccia zone.
Cobalt grades from four grab samples in the gold-bearing tourmaline breccia zone in North Cirque up to 0.10% to 0.36%.
Max Project
The geology of the Max area includes a folded package of Jurassic-Cretaceous sedimentary and volcanic rocks that were deposited in a tectonically active, shallow-marine environment. Four styles of mineralization have been identified at Max:
Veins hosted by the Late Cretaceous intrusive Max stock and its associated hornfelsic envelope. These steeply dipping veins strike north to northeast and contain pyrite + arsenopyrite ± galena ± sphalerite. A 15 cm chip sample across the "Spine" showing assayed 12.7 g/t Au.
Rhyolite-hosted disseminated pyrite and sphalerite, identified in some drill-holes such as hole JAX17-03.
Sediment and/or volcanic-hosted cross-cutting veins and breccias of semi-massive to massive sulfide, up to 7 m wide, containing variable quantities of pyrite, arsenopyrite, sphalerite, silver-bearing lead-antimony sulfosalts, and traces of gold. Cross-cutting vein/breccia mineralization is seen in the Max areas. Jaxon's 2017 drilling program identified this style of sulphide mineralization hosted in most holes. See hole JAX17-11-12.
Stratiform, bedding parallel sulfide mineralization likely related to a shallow marine, VMS exhalative (hot spring) hydrothermal system. This style, which is the main focus of Jaxon's exploration at Max, forms a zone up to 1.5 m thick.
 Blunt Mt Project
Mineralization at Blunt Mt consists most commonly of copper-molybdenum porphyries and fracture controlled epithermal sulfide mineralization veins. The veins are silver, gold, lead and zinc bearing and are the distal sulfides mineralization related to the deeper Cu-Mo porphyries in the Bulkley intrusion.
Assay results indicate a mineralization corridor along or near the contact zone between the granodiorite intrusive and hornfels sedimentary rock with up to 29.34 g/t Au, 5410 g/t Ag, 4478 ppm Cu, 4000 ppm Mo, 10% Pb, 8.2% Zn and 3.8% Sb (Figure 3).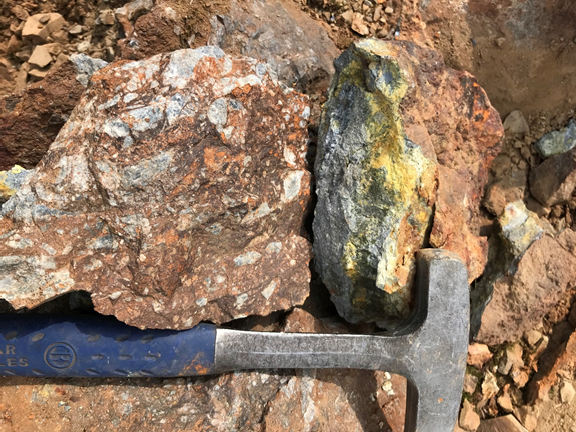 Figure 3. A massive sulfide Ag-Au-Cu-Pb-Zn-Sb polymetallic mineralization sample and a mineralized breccia sample from Blunt Mt project.
Kispiox Mt Project
Kispiox Mt project is a newly claimed project located in the northwest corner of the Hazelton Property (Figure 1). It is a hornfels hosted epithermal antimony mineralization, driven by a Huckleberry-type Cu-Mo porphyry system.
The 2021 field program discovered three antimony mineralization zones, each up to 4 m to 10 m in width and 300 m to 500 m in length. Portable XRF analyser reported soil sample anomalies up to 736 ppm. An outcrop sample from the east zone (10 m in width) contains up to 29% Sb (Figure 4). Two chip samples (4 m in width) contain up to 3.7% Sb at the central zone.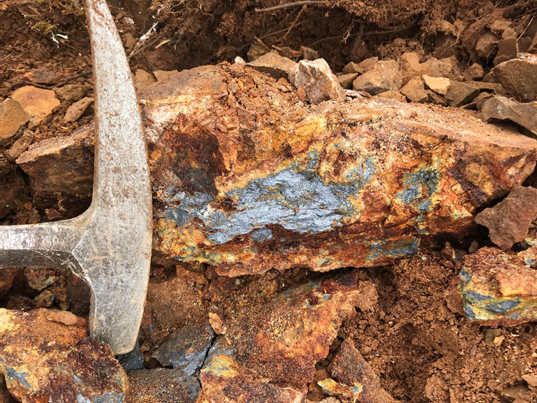 Figure 4. Outcrop sample of stibnite and its oxides from Kispiox Mt project
 Rocher Déboulé Mt and Mt Thoen are porphyry driven Cu-Mo or polymetallic targets. Both are newly claimed projects. Preliminary prospecting work will be conducted in 2021.
Qualified Person
Yingting (Tony) Guo, P.Geo., President and Chief Geologist of Jaxon Mining Inc., a Qualified Person as defined by National Instrument 43-101, has reviewed and prepared the scientific and technical information and verified the data supporting such scientific and technical information contained in this news release.
To learn more about Jaxon Mining, visit https://www.jaxonmining.com/