About Orestone Mining Corp.
The 100% owned Captain Project is located 150 km north of Prince George, British Columbia, in the prolific Quesnel Trough terrane which hosts a number of copper-gold and copper-molybdenum porphyry deposits including the Mt Milligan gold-copper deposit located just 30 km north of Captain. The Company currently controls 3578 hectares (5273.22 hectares) in the politically-safe jurisdiction of British Columbia. The area boasts year-round road access and excellent infrastructure.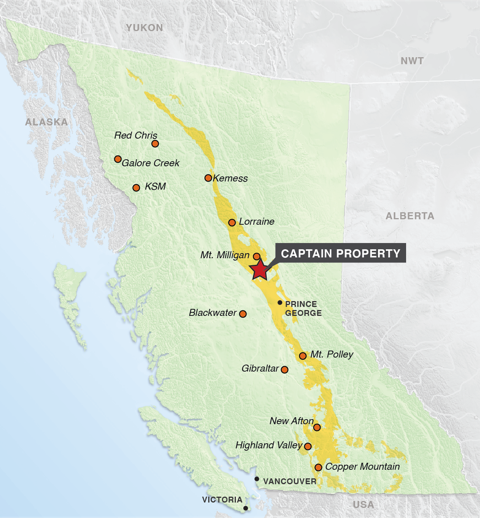 CURRENT EXPLORATION
Exploration since 2019, and has focused on locating the source of a high grade calc-alkaline kspar-sericite monzonite porphyry inclusion in a post mineral dyke in drill hole C13-03. This intersection and re-logging of previous drill holes C12-03 and C19-03 confirmed the presence, to the east of a central magnetic high, of a large kspar-sericite altered calc-alkaline porphyry system that is co-incident with a magnetic low area measuring 600m by 1300m. Drill holes C20-03, C21-01, and C21-02 in 2020 to 2021, all intersected a gold-copper mineralized kspar-sericite altered monzonite porphyry/feldspar-biotite porphyry at a depth of 250 metres under 30-100 m of overburden and a 100-150m thick phyllic altered envelop.
The most recent holes C21-01 and C21-02 combined with hole C20-03 have outlined a tabular, sericite altered envelop 500 metres thick along a strike length of 800 metres and a width in excess of 1000 metres, and open to the east (500m x 800m x1000m). This represents a large volume of intensely hydrothermally altered latite/monzonite volcanic rocks with thick zones of potassic alteration containing gold-copper mineralization: two 82-85 metre wide zones in the north ("Cross Section A"); and a 90 metre wide zone in the south ("Cross Section B"). This environment indicates the presence of a large gold-copper porphyry system with the lower intersection in drill hole C21-02 indicating the potential for higher grade within the mineralized system.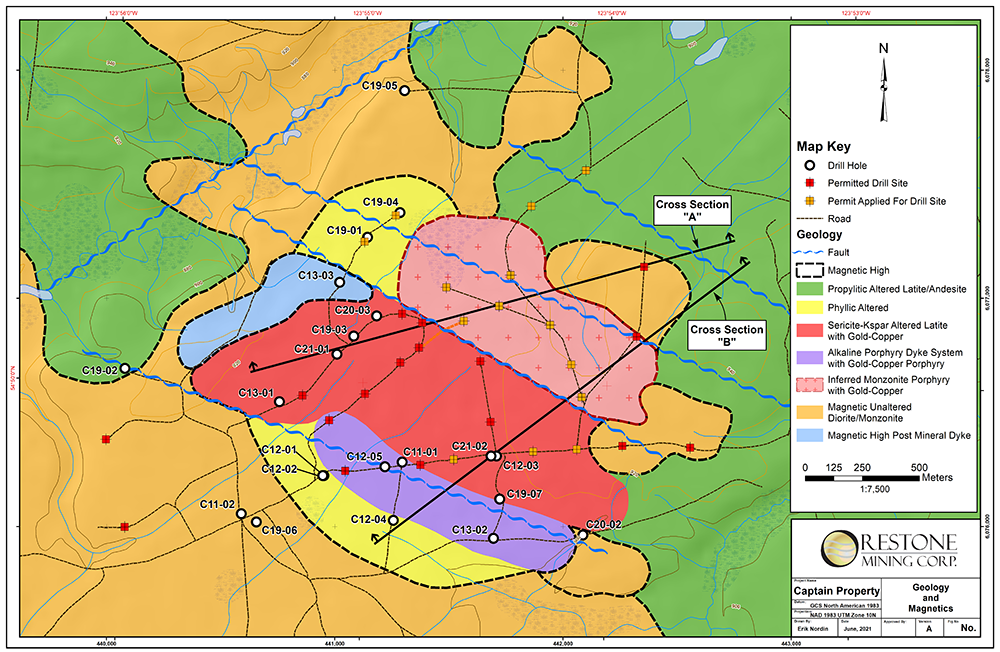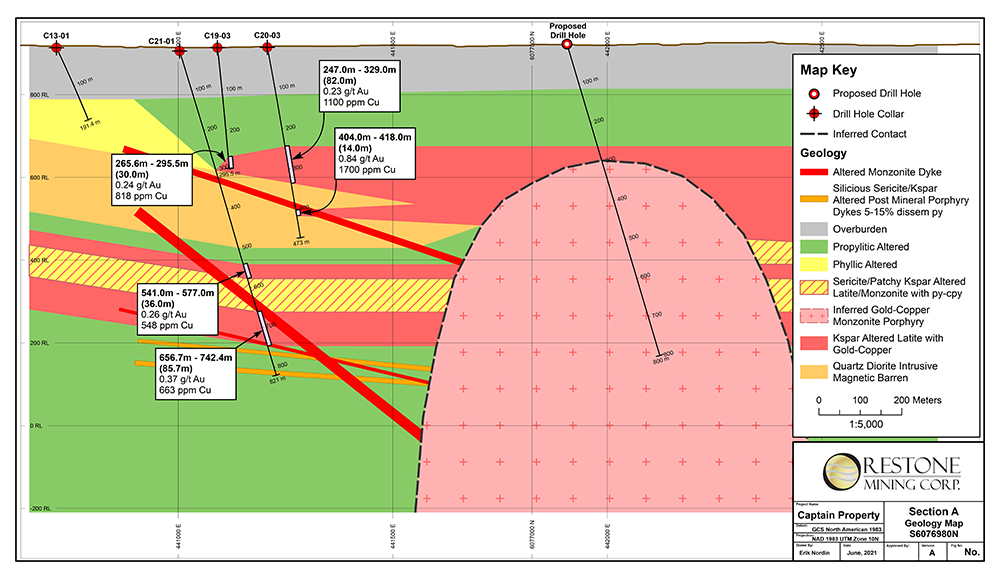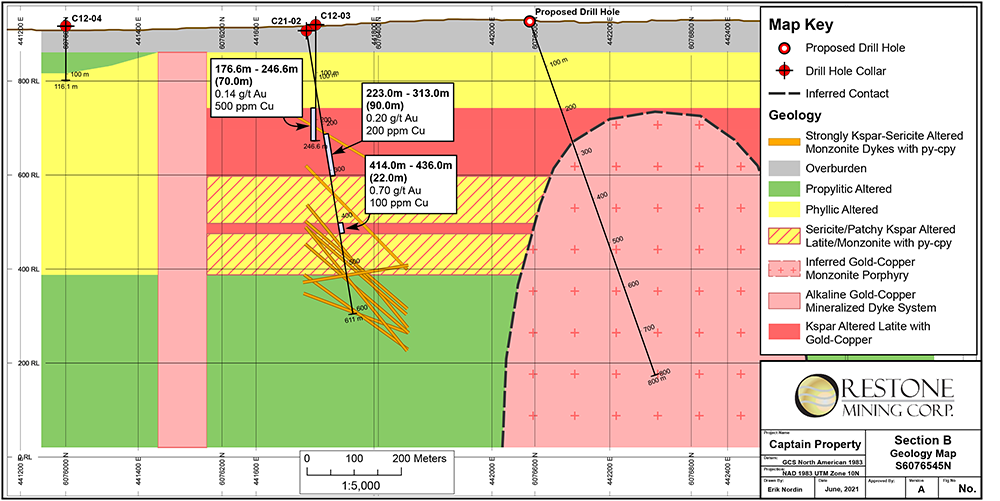 Table of Significant Drill Hole Intersections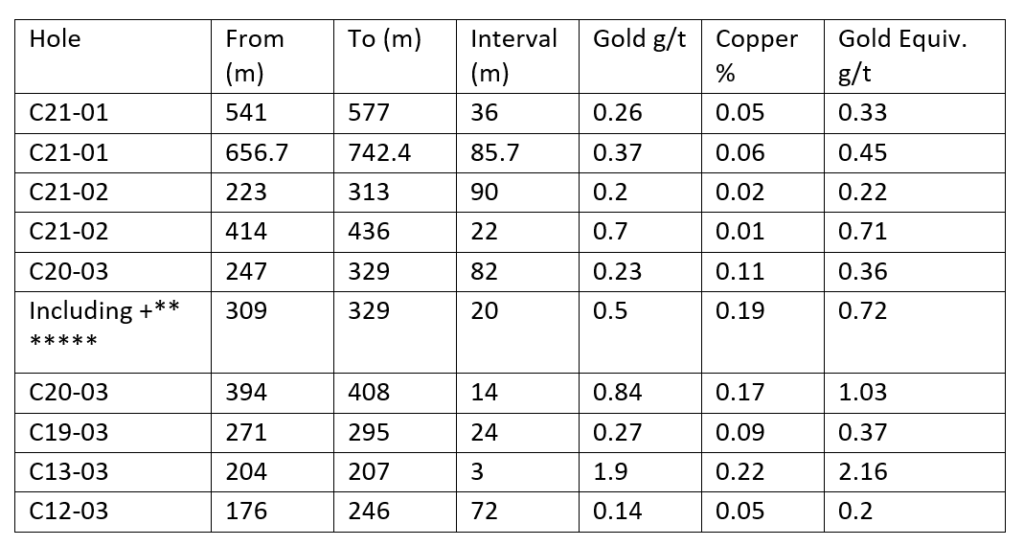 Prices used in calculating Aueq:
Gold                US$1800
Copper            US$3.00
Note: The assay value for a 2m interval in 309-329m was cut from 7.05 g/t to 1.8 g/t gold
The project is 30 kilometres south of the Mt. Milligan gold-copper deposit owned by Centerra Gold – Proven and Probable reserves of 191.0 Mt grading 0.39 g/t Au and 0.23% Cu (Centerra website news release dated Jul 31, 2020) Any discoveries at Captain will benefit greatly from the proximity to established infrastructure at Mt. Milligan.
 REGIONAL GEOLOGY
The Captain Project lies within the geological terrane of the Quesnel Trough which stretches from the US border to the Yukon border. The Quesnel Trough is a 1,500 kilometer-long, Mesozoic-aged island arc sequence. Age of mineralization in the belt is 150-230 million years. Captain sits in a back arc sequence where mineralization and porphyry intrusions are covered by volcanic and sedimentary rocks and later glacial cover making exploration difficult. This belt has been described as one of the most prospective geological areas for gold and copper within Canada.
The Quesnel Trough is important from an economic perspective due to its rich endowment of gold/copper (molybdenum) porphyry deposits. These large-tonnage deposits are sought after by major mining companies because of their open pit, low cost operating features and long mine life. The style of mineralization at the Captain Project conforms to the porphyry deposits found in the Quesnel Trough.
 PROPERTY GEOLOGY
Topographic relief in the Captain Project is flat and outcrop is rare with overburden thickness typically ranging from 20 to 150 meters. Geologically, the property falls within the Quesnel Terrane, which is characterized by a Late Triassic to Early Jurassic magmatic arc complex that formed along or near the western North American continental margin in contact to the east with Proterozoic and Paleozoic carbonates.
Because of the lack of outcrop at Captain Project, the geology is based on interpretation of a magnetic survey and widely spaced drill holes. The claims are underlain by basalts and andesites of the Takla Group and multiple intrusive bodies. Limited drilling suggests the large (4 km by 2 km) magnetic feature in the centre of the property is a fresh silicified magnetic diorite intrusive. The numerous smaller, flanking high and low magnetic features on the eastern flank of the central magnetic high represent alkaline and calc-alkaline intrusive dyke swarms and plugs and are the main exploration targets at Captain.
 MINERALIZATION
The gold-copper mineralization intersected in diamond drilling in holes C11-01, 13-02, C12-05 and C19-07 at Captain is classic alkali porphyry mineralization and alteration. The alkaline porphyry mineralization in the T1-T2 zone is associated with kspar-magnetite-carbonate-actinolite-chlorite altered volcanics and alkaline porphyry dikes and very fine grained pyrite and chalcopyrite. The presence of magnetite generates strong magnetic responses which guide exploration.
In the calc-alkaline porphyry system seen in hole C12-03, C13-03, C19-03 and C20-03 alteration and mineralization consists respectively of intense sericite-carbonate-kspar  alteration with gold-copper associated with fine grained pyrite chalcopyrite sulphides. The calc-alkaline NW trending magnetic low measuring 600 m x 1300m.Two mineralized intrusives have been identified: 1) hypabyssal monzonite associated with the magnetic low with intense sericite-kspar alteration and 20% disseminated sulphides intersected in hole C19-03 and the inclusion in C13-03 and 2) a feldspar-biotite porphyry on the eastern flank of the mag low intersected in C20-03 with strong sericite alteration and kspar overprint with 2-5 % disseminated sulphides.
For more information about Orestone Mining Corp, go to https://orestone.ca/