About Plato Gold
Plato Gold is listed on the TSX Venture Exchange under the symbol "PGC" and on the Frankfurt Stock Exchange under the symbol "4Y7". Plato currently holds a portfolio of significant properties near Marathon, Ontario (5,146 ha and 2,126 ha), Timmins, Ontario (2,032 ha) and Santa Cruz, Argentina (9,672 ha). Plato provides an attractive platform of prospective properties with qualified people in established and active mining areas.
Timmins Gold Projects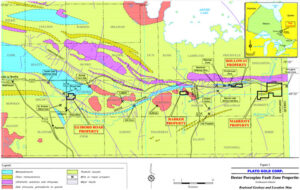 Plato Gold is exploring 4 gold projects in East Timmins, Ontario, Canada, in the Timmins-Kirkland Lake area within the western portion of the prolific Abitibi Greenstone Belt.
Holloway and Marriott are 100% owned by Plato Gold.
Plato holds a 50% interest in the Guibord property with the remaining 50% held by Osisko Mining Inc.
Osisko Mining Inc. also holds a 80% interest in the Harker property with Plato holding the remaining 20%.
Holloway (100% interest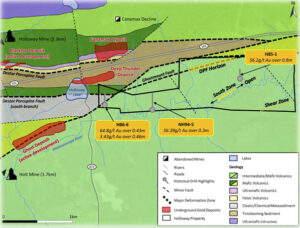 Holloway covers an acreage of 156 hectares withinthe Larder Lake Mining Division. The property is located 1.7 km east-northeast of the Holt mine shaft and 2.3 km east of the Holloway mine.
Drilling in the 1980s and 1990s have cut several alteration zones that are characterized by 2-3mwide intervals with variable degrees of silicification, sericitization, carbonatization and pyritization. One zone was cut in hole H-85-1, where a narrow section of strong silicification returned a value of 56.2 g/t gold over 0.8m. A section of rubble in hole H-86-6 returned a value of 64.8 g/t gold over 0.42m and a section of rubbled quartz ankerite vein in hole NH-94-5 returned a value of 52.4 g/t gold over 0.3 m.
Kirkland Lake Gold Inc. is actively drilling the Ghostmount fault extension east of the Holt mine which trends onto the Holloway property. In previous years Newmont drilled both on and immediately west of the Holloway property. Plato Gold sees good potential for gold mineralization at depth in the area of the Ghostmount fault extension and the Deep Thunder deposit.
Marriott (100% interest)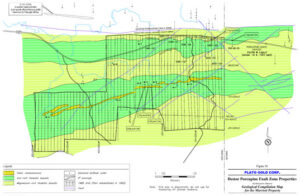 Historic drilling was primarily focused on a felsic volcanic/chert horizon which extends across the property and on IP anomalies.
Hole M-9 returned 2.47 g/t gold over 1.0m within a larger intersection of 0.41 g/t gold over 9.5 m. Holes M-2 and M-8 returned 1.54 g/t gold over 0.91 m and 0.64 g/t gold over 1.0 m, respectively.
In 1994 hole GH95-105 drilled by Hemlo Gold intersected 2m grading 1.71 g/t gold associated with an IP anomaly.
In 1997, 2004 and 2005 Plato Gold conducted IP surveys to define exploration targets. A large number of anomalies have been defined.
Plato's 2005 diamond drill program consisted of 11 holes totaling 2,858m. Drill hole MP-01 returned .86 g/t gold over 1.0m from 185.3 to 186.3m. This intersection appears to be the extension of a zonei ntersected by GH95-105, located 200 m east of MP-01 that closely correlates with an IP anomaly.
MP-10 located in the NW corner of Marriott and adjacent to the Destor Porcupine Fault Zone, returned 2.4 g/t gold over 1.0m from 211.8 to 212.8m and 5.14 g/t gold over 1.0m from 222.3 to 223.2m.
Guibord (50% interest)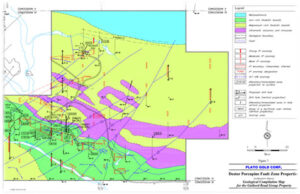 Guibord is surrounded by several active and former gold mines including Black Fox owned and operated by McEwen Mining Inc.Historical exploration has been focused on the North Zone which is situated immediately south of the contact between the Porcupine metasediments and the Stoughton-Roquemaure Assemblage and a series of gold-bearing alteration zones known as the Shear Zone, South Zone and Quartz Vein Zone or Quartz Carbonate Vein Zone (QCVZ).
The North zone was initially identified in 1964. Drill hole G-1 intersected 8.22 g/t gold over 2.13m, including 13.7 g/t gold over 1.22m.
The best mineralization in the South Zone was intersected by two adjacent holes:
Drill hole GN-13 returned an avg. grade of 0.59 g/t gold over 30.5m including 1.34 g/t gold over 1.52m from 10.3m to 40.8 m.
Drill hole GN-12 returned an avg. grade of 0.66 g/t gold over 23m including 1.77 g/t gold over 4.97 m.
The 2005 program showed that the QCVZ contains significant widths of semi-continuous quartz-carbonate vein complexes and sulphide mineralization with encouraging gold values. This zone can be
reasonably projected over a strike length in excess of 450m and likely in excess of 800m and true widths are up to nearly 70 m.
Hole GP-01 returned an avg. grade of 2.74 g /t gold from 178.0 to 183.0m over 5m including one 1m sample grading 6.6 g/t gold and two additional samples grading more than 2.6 g/t gold. Hole GP-12 drilled 150 m east of GP-01 cut the same zone. The 5m interval from 137.0 to 142.0 m contained 2.40 g/t gold, including one sample with 5.25 g/t gold.
Harker (20% interest)
Osisko Mining Inc. holds an 80% interest in the Harker property with Plato holding the remaining 20%.
The property is located immediately south of the Jonpol Garcon gold deposit owned by Osisko.
The highest gold value to date at Harker was identified in drill hole NH-85-1, where a 1cm wide fracture in syenite containing visible gold returned 14.6 g/t gold over 0.43m.
Visible gold was also recognized in NH-86-3 at 47.8m with disseminated pyrite in a quartz veinlet.
The best zone of mineralization was intersected within hole NH-86-6 where a value of 2.55 g/t gold over 3.90m was returned. An adjacent hole, NH-86-7 returned a value of 1.37 g/t gold over 6.22 m.
To learn more about Plato Gold, go to https://www.platogold.com/
To view the Timmins map and to learn more about the activity in the Timmins area, go to https://digigeodata.com/area/timmins/