About Prospector Metals
Prospector Metals is a well-financed exploration company, led by a highly qualified team with over 100 years of collective experience in mining and finance. Prospector is advancing its three main projects: Toogood gold project in Newfoundland, Whitton Lake and Nickel-Copper project in Ontario, and Savant Lake a gold project in Quebec.
Toogood, Newfoundland
100% (earn in) interest in 11,825 ha (118km2) located on New World Island, approximately 65 km north of Gander, Newfoundland. These cover a strike length of over 28km and have good access via paved and gravel roads and trails.
Highlights
Four weathered sub-crop grab samples with visible gold grading 7,877, 1,276, 1,113, 226 g/t Au, and one additional sample assaying 7 g/t Au are located 420m ENE of the previously announced initial outcrop sampling (Figure 1) (see press release dated July 21, 2021). Note that surface samples are grab/select samples and are not necessarily representative of mineralization hosted on the property.
The grab samples are angular, loose, weathered, palm sized quartz vein material in an area of thin cover. They are interpreted to be close to source, covering an area of approximately 40m x 10m. The Toogood project area lacks significant glacial till or erratic boulders due to a low-lying marine incursion approximately 12,000 years ago. As a result, soil and boulders are interpreted as in place weathered sub-crop.
Initial mapping and prospecting suggest mineralization may be locally associated with quartz veins that occur along NNE trending faults within sedimentary host rocks. Visible gold occurs in outcrops of quartz vein stockwork within a strongly sericite silica pyrite altered felsic (tonalite) dike that intruded a dextral strike slip structure.
Localized outcrop stripping, trenching, soil sampling will follow up the high-grade sampling, in addition to continued prospecting and mapping property wide.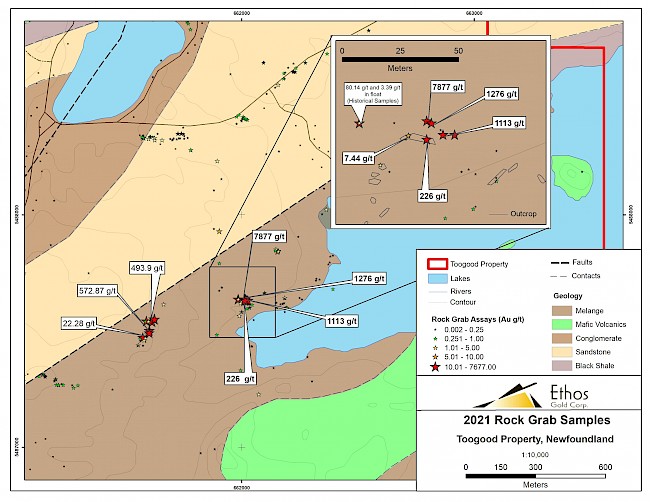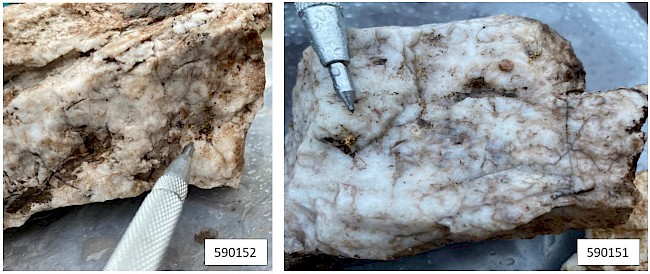 Note: these photos are not intended to be representative of gold mineralization
Toogood Gold Property Geology Overview
Toogood Project lies at the northeast extent of the Exploits Subzone (Dunnage Zone) of Central Newfoundland and is underlain mostly by the Ordovician Dunnage Melange and the Badger Belt (Figure 3). The Exploits Subzone area trends 200km northeast / southwest across the island of Newfoundland, and hosts most of the significant gold deposits in the province including Marathon Gold's Valentine Project which hosts 3.09 Moz. M&I at 1.75 g/t. Gold mineralization on the Toogood Project is hosted by a suite of Devonian felsic dykes which cross-cut the property, emplaced in the latter stages of a polyphase tectonic history. Gold mineralization is associated with arsenopyrite, pyrite, trace chalcopyrite, and fine-grained native gold within pervasive sericite altered rocks, and concentrated along intersections between late-stage conjugate brittle faults.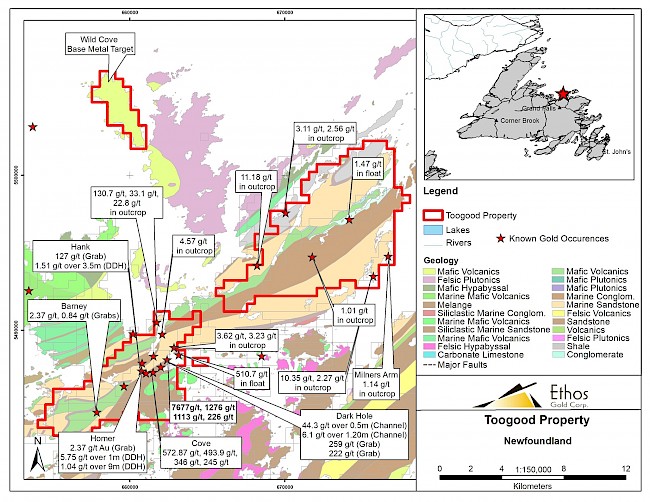 1 Historical assay values have not been independently verified by the Company and a potential investor should not place undue reliance on historical results when making an investment decision, nor should they be used as the sole criterion for making investment decisions. There is no assurance that the Company can reproduce such results or that the historical results described therein will be realized.
2 "Best surface samples" are grab / select samples and not necessarily representative of mineralization hosted on the property.
To learn more about Prospector Metals , go to https://prospectormetalscorp.com/
For more about the activity in Newfoundland and to view the digital map, go to https://digigeodata.com/area/newfoundland/