About Silver Viper Minerals Corp.
Silver Viper Minerals Corp. (TSX.V:VIPR) is a Canadian-based junior mineral exploration company focused on precious metals exploration in Sonora Mexico. The Company operates its 100% owned La Virginia Gold-Silver Project, comprised of a single claim acquired from the most recent operator, Pan American Silver Corp and three claims currently under option. Silver Viper may earn a 100% interest in the three "Rubi-Esperanza" group of claims by making staged payments over a period of five years.
The 6,882 hectare project represents an early-stage exploration property hosting a series of laterally extensive intrusive dykes and breccia zones bearing low-sulphidation epithermal style gold-silver mineralization.
Drilling by the Company to date builds upon a sizeable database of over 52,000m of drill core from 188 diamond drill holes, generated by previous operators between 2010 and 2013. Silver Viper has expanded upon the previous work by continuing exploration along trend into prospective, untested ground.  In late 2018 the final holes of the Phase I program encountered mineralization over the El Rubi prospect.  Phase II drilling ran from late 2019 to early 2021 totaling 102 holes for 27,912 metres. Phase II was largely designed to delineate the mineralized zone at El Rubi and culminated in the completion of a maiden resource calculation.  The 43-101 compliant resource calculation encompasses six discrete mineralized zones along the main structure and was announced in May 2021.
Phase III drilling is underway and continues to probe the El Rubi area in advance of testing several newly identified mineralized prospects in the greater El Rubi region.  Additional planned work for the balance of 2021 includes the completion of a TITAN-160 deep-penetrating geophysical survey centered on El Rubi.  The survey, to be completed by Quantec Geoscience aims to probe to depth, the sub-surface at El Rubi and is expected to assist in designing a future drill campaign to test deeper portions of the mineralized system.
La Virginia Project
The project hosts epithermal-style gold-silver in quartz stockworks, veins and hydrothermal breccias controlled by the regional north-northwest trend. Mineralization is hosted by intermediate volcanics, and pre-mineral, dacite-rhyodacite dykes emplaced along fractures aligned to the regional trend. The structures are laterally extensive and often conspicuous due to the erosion-resistant nature of the coincident dykes. Work to date has identified anomalous gold and silver mineralization over many kilometres. Historical underground workings indicate that mineralized zones within dilationary jogs or bends along the target structures can achieve true widths of up to 20m.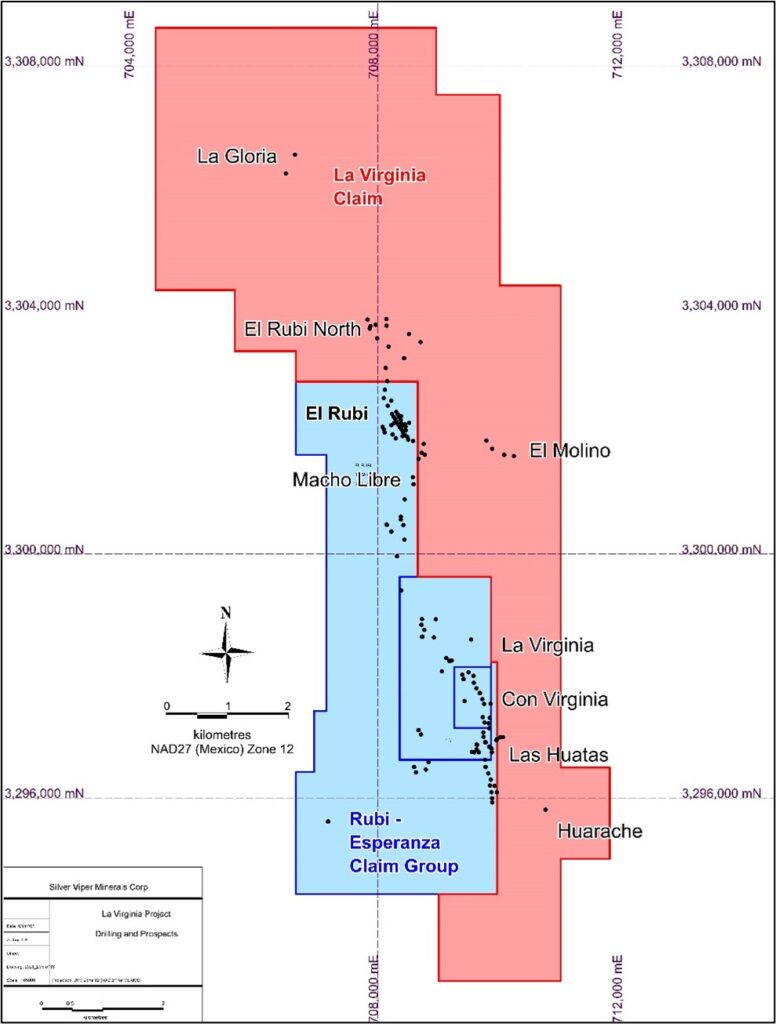 Initial Mineral Resource Calculation
In May of 2021 Silver Viper announced a maiden mineral resource estimate at La Virginia comprising 154,000 oz gold and 6,930,000 oz Silver in the Indicated Category, and 260,000 oz gold and 12,940,000 oz Silver in the inferred category as tabulated below.  The preliminary resource estimate represents an estimated 17,730,000 oz silver equivalent and 31,116,000 oz silver equivalent using a gold:silver price ratio of 1:70.

Mineral Resources which are not Mineral Reserves do not have demonstrated economic viability.
The estimate of Mineral Resources may be materially affected by environmental, permitting, legal, title, taxation, socio-political, marketing, or other relevant issues.
Mineral resources are reported at $US20 equivalent for open pit and $US100 for underground. The dollar equivalent is based on $US 1,650 per ounce of gold and $US 22 per ounce of silver assuming recoveries of 94% for gold and 90% for silver.
The Inferred Mineral Resource in this estimate has a lower level of confidence than that applied to an Indicated Mineral Resource and must not be converted to a Mineral Reserve. It is reasonably expected that the majority of the Inferred Mineral Resource could be upgraded to an Indicated Mineral Resource with continued exploration.
The Mineral Resources in this report were estimated using the 2014 Canadian Institute of Mining, Metallurgy and Petroleum (CIM), CIM Standards on Mineral Resources and Reserves, Definitions and Guidelines prepared by the CIM Standing Committee on Reserve Definitions and adopted by the CIM Council.
To learn more about Silver Viper Minerals, go to https://silverviperminerals.com/
To learn more about the activity in Mexico and to see the digital map, go to https://digigeodata.com/area/mexico/