About Wolfden Resources
Wolfden is an exploration and development company focused on high-margin metallic mineral deposits in Canada and the United States
Picket Mt. Project
Pickett Mt. Project – Maine USA: One of the highest-grade polymetallic projects in North America (Zn, Pb, Cu, Ag, Au). This wholly owned advanced project in northern Maine is well-located near excellent infrastructure that will support near-term development as detailed in a PEA dated September 14th, 2020. Diamond drilling is on-going to test the potential for additional resources.
Figure 1 – Pickett FWZ Lens – a high-grade silver-rich massive sulphide lens that is not included in the current resources.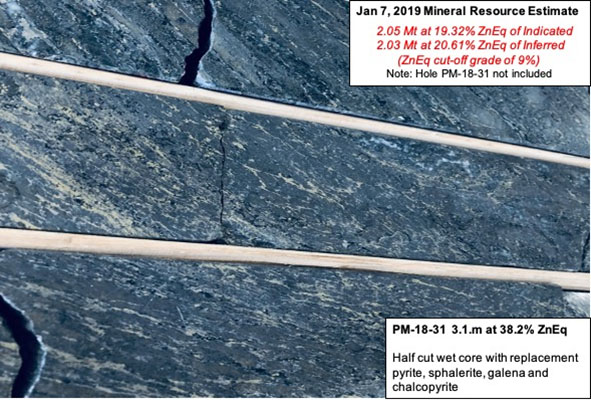 Big Silver Project
Maine USA: The Big Silver Project hosts a significant silver-rich polymetallic system (Ag-Au-Cu-Pb-Zn) where 2,854 historical core samples average 28 g/t Silver and were locally as high as 2,245 g/t Silver. In addition, soil samples display significant silver enrichment where values of up to 30 g/t Silver in soil are common. The Project occurs within a highly prospective belt of rocks that extends over 100 square kilometers (40 sq. miles).Select historic intercepts are noted in the table below. A soil sampling, mapping, geophysical survey and drill program are planned for this summer and fall.

Rice and Nickel Island Projects
Manitoba, Wolfden has two wholly-owned projects the Rice Island and the Nickel Island projects rich in Nickel-Copper-Cobalt-Platinum Group Elements. Both Projects have significant exploration potential and historic, but, non-43-101 compliant mineral resources. This deposit is a blade and keel type zone with a blade like, steeply dipping Feeder Zone feeding into a U-shaped Keel Zone. Both types of nickel mineralization are open down plunge. Drill programs have been proposed for both projects that have the support from the Manitoba Government Mineral Development Fund. Rice Island is just 4 kms from HudBay's Stall Lake Complex.
Figure 2: Rice Island Model open down plunge below 480 metres.  Results of the 2021 drill program including RI21-43: 9 m of 1.20% NiEq; RI21-42: 14 m of 0.80% NiEq and RI21-40: 2m of 1.30% NiEq.
Wolfden's Nickel Island Project is a komatiite-hosted, Archean-age nickel project located in central east Manitoba. In addition to a sizeable nickel deposit, there are numerous untested conductive zones that will be drill tested in 2022. See the summary figure below.
Figure 3 – Nickel Island compilation map and project summary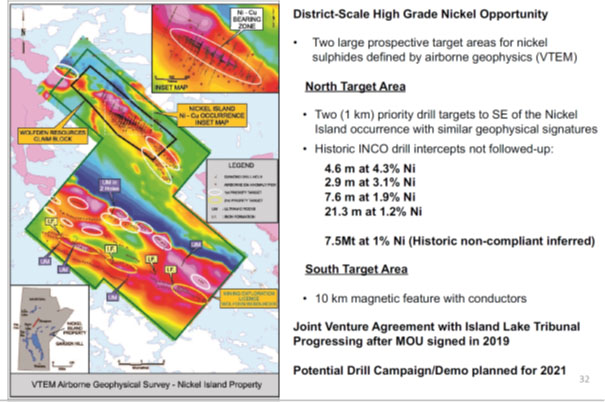 Tetagouche Project
New Brunswick, the Tetagouche property comprises approximately 16,000 hectares in the heart of the prolific Bathurst Mining Camp in northeastern New Brunswick. The property contains 6 historic massive sulphide deposits (non 43-101 compliant), numerous base-metal and silver-gold occurrences, largely explored during the 1960's and 1970's. Brunswick No. 12 is one of the world's premier massive sulphide deposits with a global reserve (including those previously mined) of at least 6 million tonnes at a grade of 0.37% Cu, 3.44% Pb, 8.74% Zn and 102.2 g/t Ag. In addition to Brunswick No. 12 there are over 30 other Volcanogenic Massive Sulphide deposits in the Bathurst Mining Camp, some of which have been previously mined, attesting to its world-class endowment and mineral potential. The current exploration program includes geophysics, geochemical surveys, trenching and 3,000 metres of drilling focused on epithermal-style silver-gold mineralization. A summary of the five target areas follows:
California Lake -Drill intercepts up to 459 g/t Ag over 4.7 m

(true width ~4.2 m)

Woodside Brook Zone – Drill intercept up to 347 g/t Ag, 0.70 g/t Au over 0.9 m

(true width unknown) near a large untested silver-arsenic soil anomaly that will be drill tested in 2021.

Carroll Zone – Trench results include 8 m at 61 g/t Ag, 0.34 g/t Au, 0.29% Zn, 0.69% Pb and 359 ppm Sb in a quartz porphyry intrusive host. Possible source of heat and mineralization for the epithermal system.
Bear Creek Zone – Drill intercept up to 353 g/t Au, 0.34 g/t Au over 5.8 m

(true width ~4.7 m)

Upsalquitch Zone –

Drill intercept up to 6 m at 155.8 g/t Ag, 0.21% Cu, 0.25% Pb and 731 ppm Sb (true width unknown)
Figure 4 – Wolfden Properties highlighting epithermal Ag-Au target areas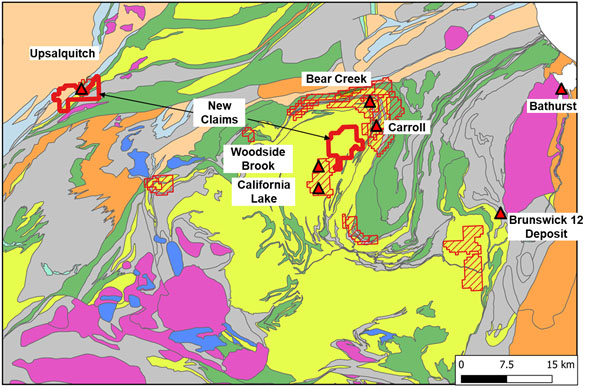 For more information, go to https://www.wolfdenresources.com/
To learn more about the activity in the Maritimes and to view the map, please go https://digigeodata.com/area/maritimes/