About CanAlaska Uranium
CanAlaska Uranium Ltd. (TSX-V: CVV; OTCQX: CVVUF; Frankfurt: DH7) holds interests in approximately 300,000 hectares (750,000 acres), in Canada's Athabasca Basin – the "Saudi Arabia of Uranium." CanAlaska's strategic holdings have attracted major international mining companies. CanAlaska is currently advancing two brand new discoveries with Cameco and Denison at two of the Company's properties in the Eastern Athabasca Basin. CanAlaska is a project generator positioned for discovery success in the world's richest uranium district. The Company also holds properties prospective for nickel, copper and diamonds. For further information visit www.canalaska.com.
CanAlaska is a project generator with a management technical team comprised of geologists with extensive experience identifying exploration targets in the Athabasca Basin that have led to significant uranium discoveries. CanAlaska's primary focus is on advancing the West
McArthur, Moon Lake South, and Cree East projects.
KEY URANIUM PROPERTIES
WEST McARTHUR PROJECT
Close to the world's richest Uranium Mine, Cameco's McArthur River
Advancing high-grade basement hosted uranium discovery at Pike Zone.
Adjacent to Fox Lake Deposit, discovered by Cameco in 2013
Over $25 million of work successfully identified 7 Target Areas
Multiple exploration targets remain on property
Objective: a large unconformity-basement uranium deposit
CanAlaska is an 80% owner and operator of the Joint Venture with Cameco
MOON LAKE SOUTH
Close to Denison Mines Phoenix and Gryphon deposits
Unconformity-associated high-grade uranium discovery in winter of 2023 currently being evaluated
Multiple exploration targets remain along 4 kilometre long under explored CR-3 corridor
CanAlaska is a 25% owner in the project with Denison Mines
CREE EAST PROJECT
35 kilometres from Cameco's Key Lake Uranium Mine and Mill complex
Objective: a large tier 1 unconformity Uranium deposit
Priority targets in 9 areas with extensive Uranium bearing systems
Actively seeking a joint venture partner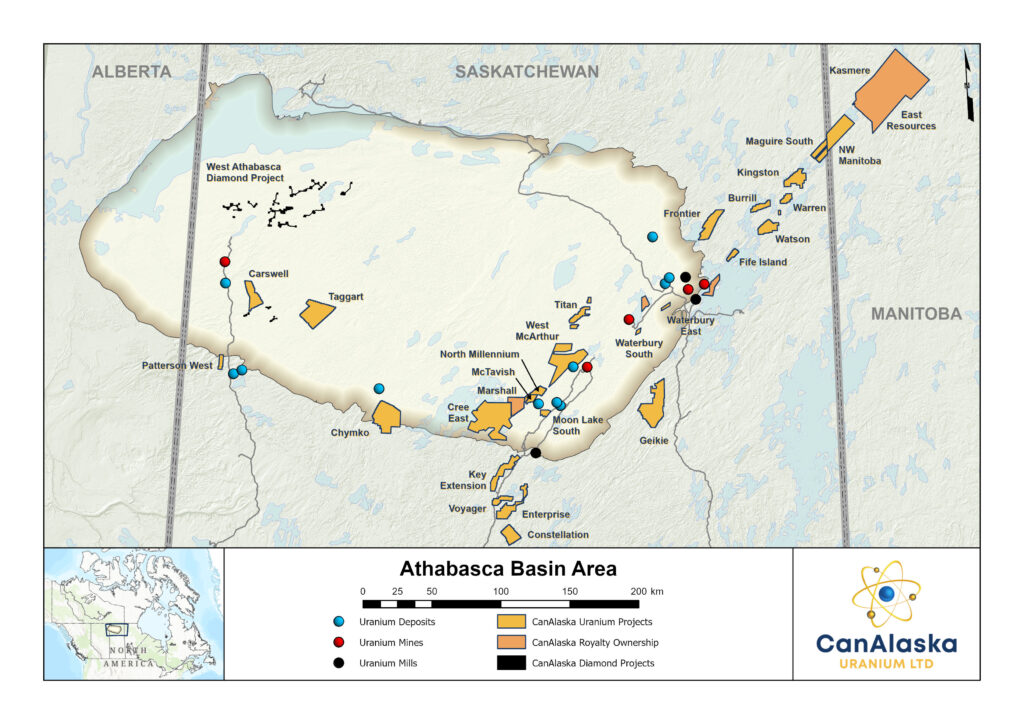 To learn more about CanAlaska, please contact:
Cory Belyk, CEO
T: 306.668.6900
For more on the activity in the Athabasca Basin area and to see the digital map, go to https://digigeodata.com/area/athabasca-basin/