About Conquest Resources Limited
Conquest Resources Limited was first incorporated in 1945 and is a mineral exploration company that is engaged in the exploration of mineral properties in Ontario. The Company's principal exploration target is high-grade massive sulphide copper. Conquests strategy is to maximize stakeholder value by identifying, acquiring, exploring and developing high-grade base metal and precious metal projects in Canada.
Alexander Gold Project
Highlights:
Conquests Alexander Property comprises 27 patented claims covering 448 hectares (1,107 acres) adjoining Evolution Mining's (formerly Newmont Goldcorp's) Red Lake Mine. Conquest's land is situated just beyond the security gate at Evolution's Red Lake Gold Mine and is almost completely surrounded by Evolution's Red Lake Mine Property.
Conquests target on the Alexander Claims is an extension, or repetition, of the mineralization at the Red Lake Mine. The Red Lake Mine is claimed by former owner Goldcorp to be the richest gold mine in the world with approximately 28,000,000 ounces of historic production and current reserves.
The stratigraphy under the property remains essentially untested below 700 metres depth. The richest gold bearing ore zones exist below a vertical depth of 1,300 metres in the High-Grade Zone at the Evolution Mining Red Lake Gold Mine which is less than 800 metres from the property boundary.
Economically viable gold mineralization in the area tends to form in moderate to steep south-dipping and westerly ranking lenses which at the Campbell, former Dickenson and High-Grade Zone deposits have been demonstrated to form spatially "stacked" lense deposits.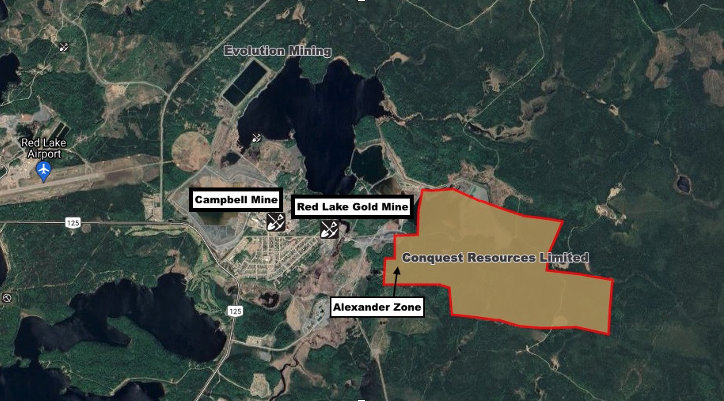 For more information about Conquest's Alexander Gold Project, visit https://www.conquestresources.com/projects/alexander-gold/
To access the Alexander Gold Project Technical Report, click here https://www.conquestresources.com/wp-content/uploads/2012AlexanderReport.pdf.
Belfast – Teck Mag Project
Highlights:
26,600 (266 km²) hectare land package comprising five properties in the Temagami Mining Camp, located in Emerald Lake, northeast of Sudbury, ON, namely the Belfast Copper Property, the TeckMag Property, Golden Rose Property and the recently acquired DGC Property and JPC Property.
Our project is part of an Emerging Sudbury 2.0 trend that is targeting mineralization above the Temagami Geophysical Anomaly, a large magnetic, dense and conductive anomaly that may be related to the Sudbury Igneous Complex, the most prolific mining camp in Canada.
The property has exceptional exploration upside for Magmatic Sulphide Deposits including; Cu-Ni-PGE, VMS, IOCG, Iron hosted Au and Paleo Placer Au.
Preliminary exploration work has identified numerous conductive anomalies at depth adjacent and along the same geological corridor that hosts Teck Resources past-producing Temagami Copperfield's Mine.
Phase 1 drilling will test geophysical targets south of the host iron formation, which are on strike with the past-producing Copperfields Mine. This first phase of drilling is expected to be completed by Q3 2021. Upon the discovery of any potential economic mineralization during the Phase 1 drill program, an aggressive Phase 2 diamond drilling program will commence and is expected to be fully executed by Q4 2021, including the interpretation of drill results.