About Electro Metals and Mining
Electro Metals and Mining Inc ("Electro Metals") is a Canadian private company with plans to grow through acquisition of advanced stage base metals projects that can be advanced rapidly toward cash flow and production of metals critical for the electric revolution underway. Electro Metals has filed a 43-101 report on SEDAR and is finalizing audits to prepare to go public in 2022. The first opportunity underway by Electro Metals is a high-grade Cu-Zn-Ag-Au project in the highly productive Noranda mining camp. Electro Metals has entered into an Option Agreement to earn 100% interest in the 5800 hectare Fabie – Magusi property in Quebec, and owns 100% of 700 hectares of highly prospective property abutting the northwest portion of the optioned ground.
The objectives of Electro Metals are threefold:
Advance the Magusi deposit to production.
Expand the Resource size at the known deposits on the property
Explore for new 'Company Maker' deposits along the favourable horizon and other targets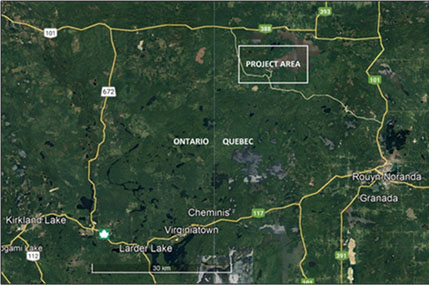 The  Fabie Bay (formerly New Insco) – Magusi VMS deposits
Situated 100km east of the Glencore Kidd Creek complex and 45 km NW of the Glencore Horne smelter, the property has gravel road to site, three phase power and the Fabie deposit has seen limited past mining production by Noranda Mining (1976) , and First Metals Inc. (2008). Electro has added another 700 hectares of 100%-owned claims to the property. The high grade Volcanogenic Massive Sulphide ("VMS") deposits, Fabie and Magusi, are situated along a highly prospective eleven km favourable horizon. VMS deposits are generally composed of high grade deposits that formed in clusters on the ancient seafloor. Modern analogies have been the topic of intense scientific research and are typically referred to as 'black smokers' where hot fluids are venting on the seafloor and depositing these metal-rich deposits today.
VMS deposits have been referred to historically as 'Company Makers' in that several companies were created by the discovery of large VMS deposits in the past: Noranda Mining, Kidd Creek Mines, HudBay Minerals, and AUR Resources, to name a few. The Fabie Magusi property hosts near – surface deposits. The Fabie has been partially mined out, whereas Magusi remains undeveloped and is the target of ongoing advanced exploration. The Magusi deposit subcrops below the local overburden and  consists of a massive sulphide deposit with copper – rich and zinc rich zones that have separate published Indicated and Inferred Resources as follows:
Indicated Copper Zone: 729KT 3.26%Cu, 0.58% Zn, 43.4 g/t Ag, 0.41g/t Au
Indicated Zinc Zone: 580KT 8.57%Zn, 0.39% Cu, 42.1g/t Ag, 2.34 g/t Au
Inferred: 355KT 3.41% Cu, 0.39% Zn, 24.2 g/tAg, 0.26 g/tAu
Magusi remains open and continued exploration will be directed at two objectives: addition of more tonnes of high grade mineralization,  and follow up of apparent high – grade cross structures. At the same time as additional information is obtained Electro will move rapidly to determining the the best way to develop Magusi into an economic deposit.
A detailed review of property data has also demonstrated other targets along the elevEn km favourable horizon and  north and northwest of Magusi. Using all the modern tools available, Electro will proceed with an integrated exploration program of drilling and mapping detailed volcanic stratigraphy, surface and borehole geophysics surveys and extensive lithogeochemistry. Applied in concert, the lithogeochemistry will assist with the volcanic mapping, and mapping vectors to assist in new discoveries on the property, by identifying and tracing the evidence of ancient hydrothermal systems on the property.
For more information about Electro Mining and Metals, please visit https://electrometalsandmining.com/
To learn more about the activity in the Val-d'Or area and to view the digital map, go to https://digigeodata.com/area/val-dor/