About GoldMining Inc.
GoldMining Inc. (GOLD: TSX | GLDG: NYSE AMERICAN) is a public mineral exploration company focused on the acquisition and development of gold assets in the Americas. Through its disciplined acquisition strategy, GoldMining controls a diversified portfolio of resource-stage gold and gold-copper projects and royalties in Canada, U.S.A., Brazil, Colombia, and Peru. The company's global aggregated gold resources across all projects total 16.2 million gold equivalent ounces in the measured and indicated categories and 16.2 million gold equivalent ounces in the inferred category1.
GoldMining has a strong financial platform in cash & equity holdings which includes 20 million shares of Gold Royalty Corp. (GROY: NYSE American). The Company has no debt and strong insider ownership including long-term institutional shareholders & strategic partners.
Details on resource estimates1 for each GoldMining project are available under the Company's SEDAR profile at www.sedar.com.  Visit www.GoldMining.com for more information. Follow us on Twitter @GoldMiningInc.
Investment Highlights:
Multi-million-ounce gold equivalent resource: One of the largest, diversified and prospective portfolios of gold and gold-copper projects in the Americas;
Recently updated 43-101 Mineral Resource Estimates on material properties, representing approximately 84% of the Company's total Measured and Indicated Mineral Resources.
Preliminary Economic Assessments are progressing on the La Mina, Sao Jorge, and Yellowknife Gold projects which are expected to be completed in 2022;
Acquisition strategy completed at the bottom of the gold-cycle that would be difficult to duplicate in today's gold environment;
One of the lowest EV/ounce evaluations in our industry ready for re-rating;
Strategy to unlock shareholder value through accretive transactions and enhancing value and de-risking the portfolio through potential development, exploration, and value-driven divestures and joint ventures; and

GoldMining also owns 20 million shares of Gold Royalty Corp. (NYSE American: GROY), providing a complementary platform and future upside to existing GoldMining shareholders as GROY expands its royalty business through potential acquisition of new royalties and resource expansion or new discoveries on its existing royalty portfolio.
REA URANIUM PROJECT
WESTERN ATHABASCA BASIN, SK, CANADA
Project Overview
The Rea uranium project is owned by GoldMining (75%) and Orano Canada Inc (25%). The large land pack is comprised of 16 permits covering an area of approx. 125,000 Ha and surrounds Oranoꞌs high-grade Maybelle River deposit. Discoveries 100 km to the east of Maybelle include Fission Uraniumꞌs Triple R and NexGenꞌs Arrow deposit.
Commodity: Uranium
Infrastructure: Winter road
Property Size: 125,328 Ha
Deposit Type: Unconformity-type uranium
Drilling: 39 holes (5,770 m)
Technical Report: Rea 2014 Technical Report
Acquired through acquisition of Brazilian Gold in 2013
$10 M in exploration
Surrounds Orano's high-grade Maybelle deposit

Discovered in 1988
7% U over 5.0m in MR-39
Orano actively exploring

New exploration model
Opportunities for partners to advance non-core properties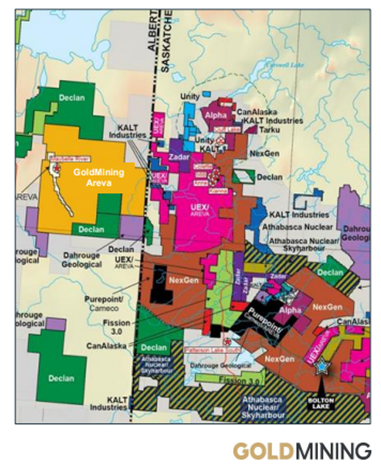 Learn more about GoldMining Inc., visit www.GoldMining.com and follow us on Twitter: @GoldMiningInc
 Contact GoldMining Investor Relations at [email protected] and Toll Free: 1.855.630.1001
Vancouver Office: 1830 – 1030 W. Georgia St., Vancouver BC V6E 2Y3, Canada Tel. 604.630.1000
To learn more about the activity in the Athabasca Basin Map and to view the digital map, go to https://digigeodata.com/area/athabasca-basin/