About Kodiak Copper
Kodiak Copper is focused on its 100% owned copper porphyry projects in Canada and the USA. Kodiak Copper is backed by John Robins' Discovery Group, founded by Chairman Chris Taylor (President and CEO of GBR), and led by Claudia Tornquist (former GM at RIO Tinto and former VP Business Development at Sandstorm Gold). The team has shown the ability to raise capital at higher prices (non-dilutive) while protecting their tight share structure and attracting strategic investors such as Teck Resources. The strategy behind Kodia's portfolio is to apply Great Bear's successful strategy to the copper space – unlock the value of historically drilled, underexplored assets in prime locations using new interpretation and technology.
Kodiak's Strategy:
Large scale assets, 100% owned,
Easily accessible, established districts
Previously drilled – but new geological interpretation
The Company's most advanced asset is the MPD copper-gold porphyry project in the prolific Quesnel Trough in south-central British Columbia, Canada. MPD is located in the highly endowed Quesnel Terrane with all the hallmarks (lithology, mineralization, and alteration assemblage) associated with existing company maker porphyry deposits in the belt. MPD stands out among its peers given its proximity to key infrastructure (all season road access and nearby grid power). The southern portion of the Quesnel Terrane is dominated by alkalic porphyry Cu-Au deposits  hosting major deposits such as Copper Mountain Mining Corporations Copper Mountain mine, Centerra Gold's Mount Milligan Mine, and New Gold's New Afton Mine among others.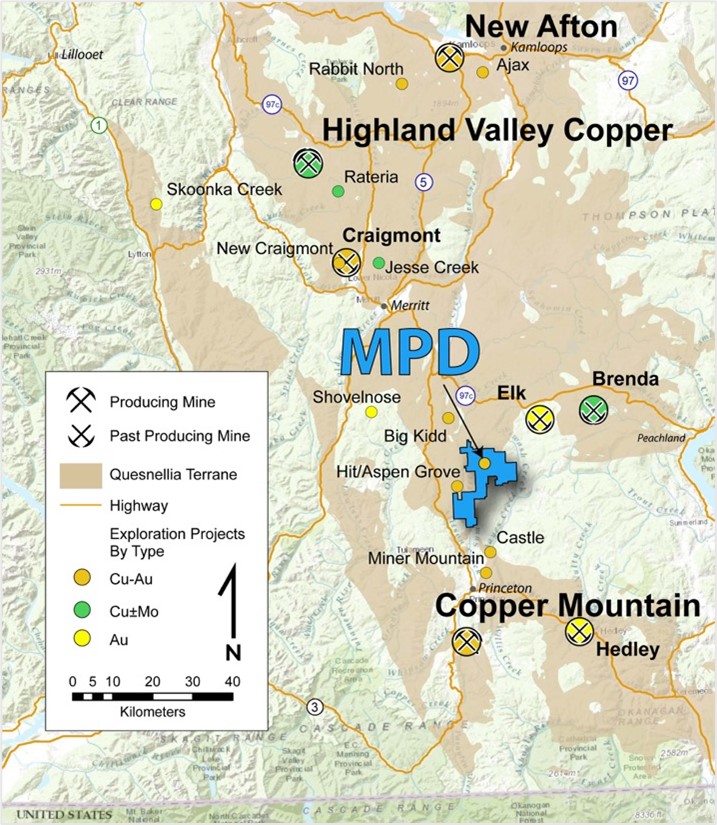 The MPD (Man, Prime, Dillard) property was acquired as a consolidated property by Kodiak in late 2018. The three historic prospects had an assortment of drilling completed in the past consisting of 129 holes (25,780 m) between 1966 – 2014 however, the property was never explored as one single project and rarely below a vertical depth of 200 m. In April 2021 the MPD property was expanded from 97km2 to 147km2 through the acquisition of the adjacent Axe property which was also historically drilled (24,577 m in 264 holes since the 60's) and adds additional prospective targets to the project overall.
By studying the historic logs and alteration sequences the Kodiak team was able to vector toward higher grade mineralization resulting in the discovery of the Gate Zone (MPD-19-003 returning 102 m of 0.53% Cu and 0.16 gpt Au) in 2019. Subsequent drilling in 2020 was highlighted by hole MPD-20-04, 535 m of 0.49% Cu, 0.29 gpt Au, and 1.75 gpt Ag, including a
A 282 metre section of returning 0.70% copper, 0.49 g/t gold and 2.64 g/t silver(1.16% CuEq*) over 282 metres from 263 to 545 metres.  Teck Resources Ltd became a strategic investor after these results by investing C$8 million into the Company in the fall of 2020 to become a 9.9%
shareholder with an equity participation right to maintain its pro-rata ownership in the Company.
Initial results from Kodiak's fully funded 30,000 m 2021 drill program continue to show more promise at the Gate Zone highlighted  by a significant step-out porphyry intersection increasing its strike length by six-fold—to 800 m (from 125 m) north- south (remains open). In particular, hole MPD-21-009, a 575 m step-out south of all other Gate Zone drill collars, returned 242 m grading 0.52% CuEq from 414 m downhole, including 87 m grading 0.78% CuEq—contained within a broader 468 m interval grading 0.35% CuEq from 245 m downhole. In addition, the near vertical hole interested the first high-grade bornite-dominated copper-gold-silver mineralization on the property,
Work to date shows all the hallmarks of a well-mineralized, large or multi-centre porphyry system on the MPD Project.  The Gate zone is one of 5 currently identified porphyry targets on MPD – The Dillard target zone is 2km east of the Gate zone and has an analogous Cu in soil anomaly with strong potential for similar copper-gold mineralization and will be drilled by KDK in Q4 2021.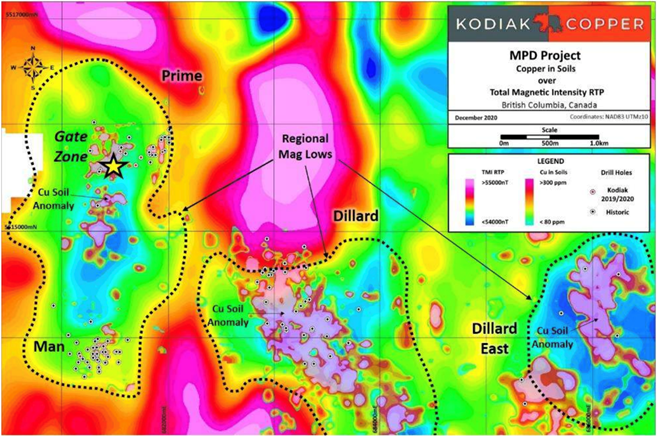 To learn more about Kodiak Copper, go to https://kodiakcoppercorp.com/
For more about the Southern BC area and to view the digital map, go to https://digigeodata.com/area/southern-bc/