Purepoint Uranium Group: Advanced Projects in the Athabasca Basin
Purepoint Uranium Group Inc. (TSXV: PTU) (OTCQB: PTUUF) actively operates an exploration pipeline of 12 advanced projects in Canada's Athabasca Basin. In addition to its flagship joint venture project at Hook Lake with partners Cameco and Orano and a second joint venture with Cameco at Smart Lake, Purepoint also holds ten, 100% owned projects with proven uranium rich targets. With an aggressive exploration program underway on multiple projects, Purepoint is emerging as the preeminent uranium explorer in the world's richest uranium district.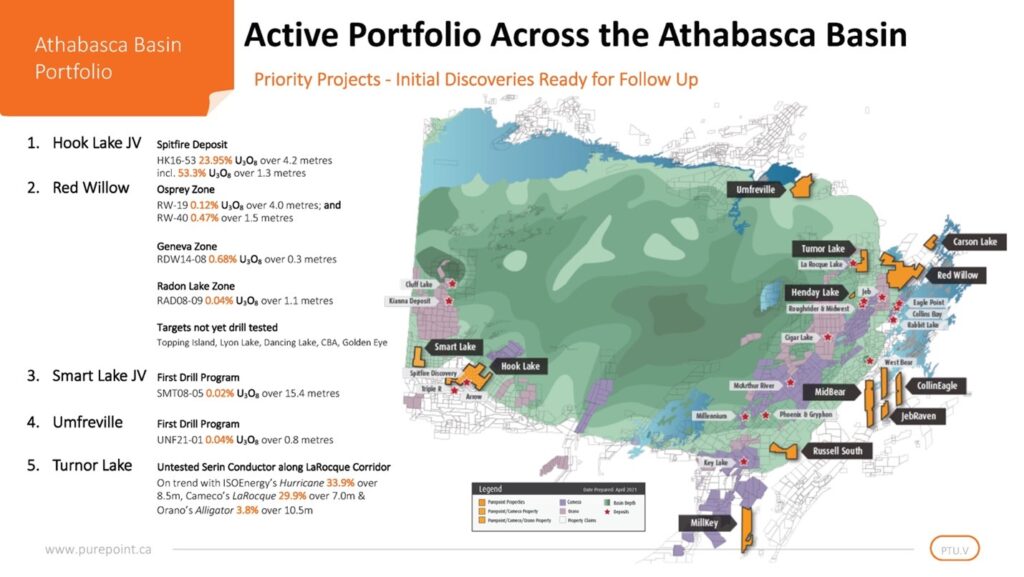 Purepoint's leadership team is comprised of an independent, highly qualified group of experts with deep provincial and regulatory ties, as well as decades of experience in the Athabasca Basin. Together, their expertise in mining, finance and exploration prime the company for exceptional growth and uranium discovery potential.
As we now enter the beginning of an exciting bull rally in uranium, Purepoint is emerging as the pre-eminent uranium explorer in the world's richest uranium district.  The company is fully funded and with an aggressive exploration program currently underway.
Purepoint's Company Highlights
Purepoint has the most advanced exploration portfolio of uranium projects in the Athabasca Basin, the world's richest uranium region
Two high-value partnerships with Cameco Corporation and Orano Canada Inc. Together, they have joint ventures on the Hook Lake project and Smart Lake project.
The company also operates a pipeline of ten, 100-percent owned, highly prospective uranium projects in Eastern Athabasca Basin, including the Red Willow, Turnor Lake, Henday Lake, Umfreville Lake and the Tabbernor Block properties.
A fully funded aggressive exploration program is currently underway
Purepoint has a world-class leadership and management team with unparalleled experience in uranium mining and exploration expertise.
Purepoint Uranium Key Projects
Hook Lake Project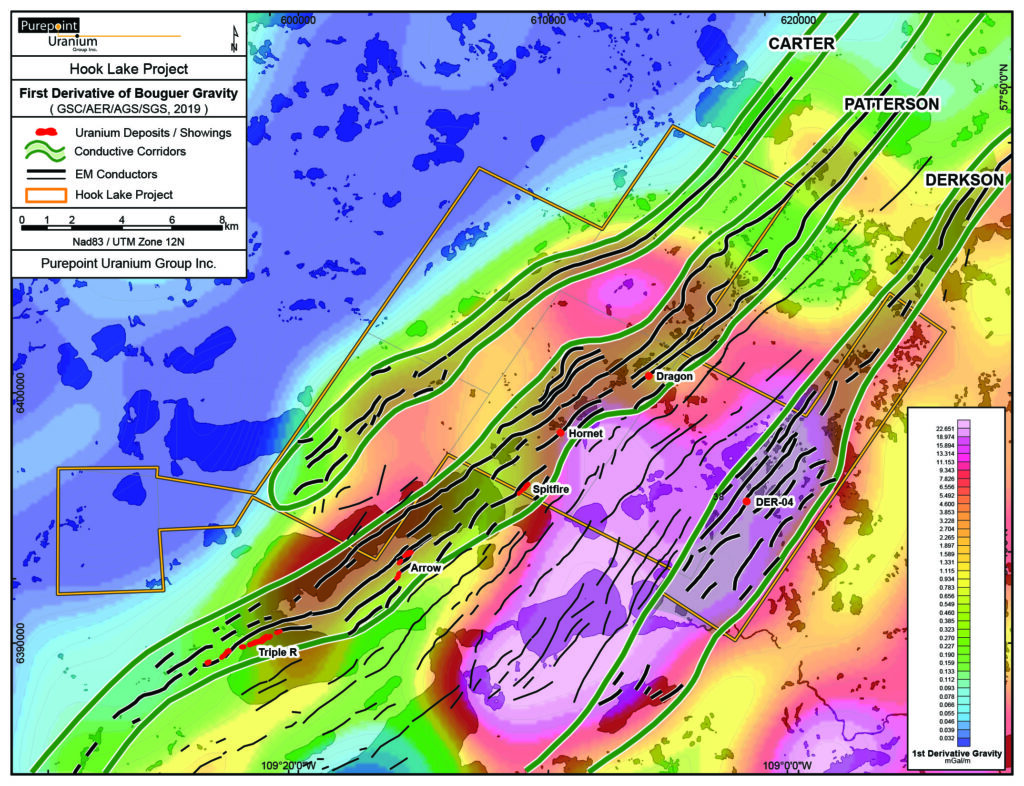 The Hook Lake property is located within the Patterson Uranium district and consists of nine claims totalling 28,598 hectares. The project is jointly owned by Cameco, Orano Canada and Purepoint Uranium. Operated by Purepoint since 2007, the project has seen significant discoveries and exploration campaigns.
A highlighted discovery on the property includes the Spitfire high-grade discovery which revealed 53.3 percent uranium oxides over 1.3 meters, including a 10-meter interval of 10.3 percent uranium mineralization measurements.
Smart Lake Project
The Smart Lake property includes two claims across 9,860 hectares situated in the southwestern portion of the Athabasca Basin, approximately 60 kilometers south of the former Cluff Lake mine. As the project's operator, Purepoint holds 27 percent ownership of Smart Lake in a joint venture with Cameco Corporation.
Aeromagnetic and electromagnetic patterns at Smart Lake reflect an extension of the patterns underlying the Shea Creek deposits. Uranium grades have revealed grades upwards of 58.3 percent uranium over 3.5 meters near the north point of the property. Exploration by Purepoint and Cameco has firmly established the presence of uranium mineralization, hydrothermal alteration and the location of several basement electromagnetic conductors, which have yet to be drilled.
Purepoint remains excited to continue exploring this element-rich property and tap into underexplored targets across Smart Lake.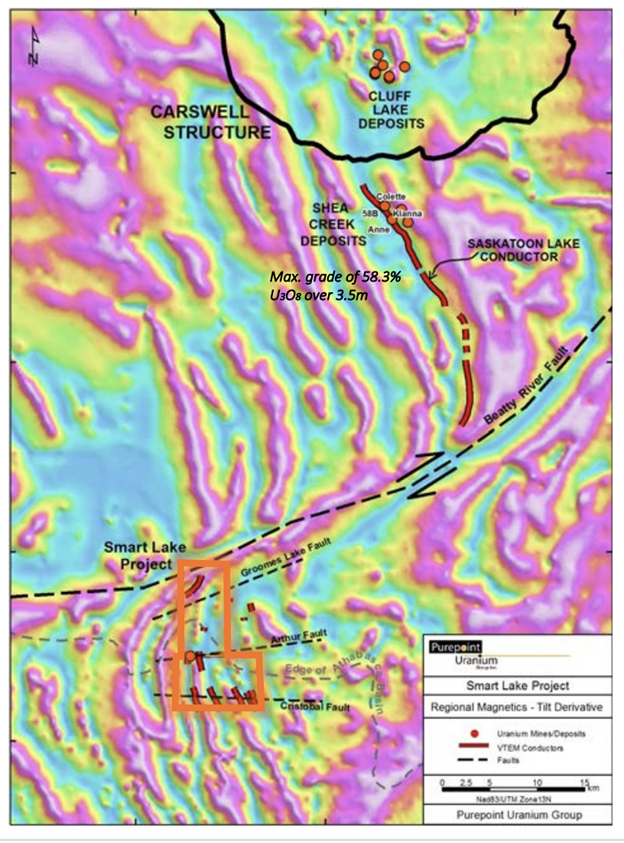 Red Willow Project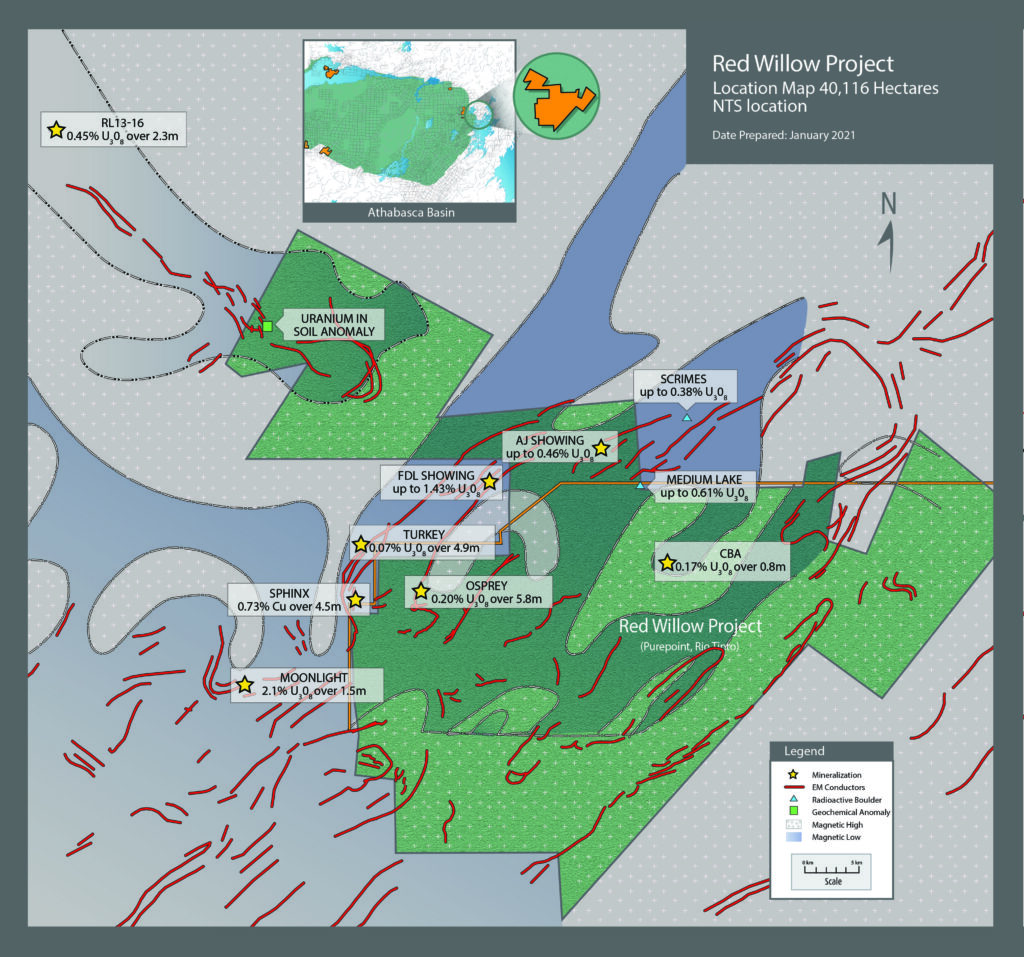 The 100-percent owned Red Willow property consists of 17 mineral claims across a total area of 40,116 hectares on the eastern edge of the Athabasca Basin in Northern Saskatchewan. The property is located close to several uranium deposits including Orano Resources Canada Inc.'s JEB mine, approximately 10 kilometers to the southwest and Cameco's Eagle Point mine that is approximately ten kilometers due south. Red Willow could see similar mining feats as these established assets.
Geophysical surveys conducted by Purepoint at Red Willow have included airborne magnetic and electromagnetic (VTEM) surveys, an airborne radiometric survey, ground gradient array IP, pole-dipole array IP, fixed-loop and moving-loop transient electromagnetics and gravity. A total of twenty-one conductive zones have been identified as priority exploration targets, which Purepoint remains excited to explore.
The 2021 Red Willow drill program returned uranium values (0.012% U3O8 over 5.5 metres and an additional 0.06% U3O8 over 0.4 metres from drill hole GEN21-05) and will be followed up in 2022.
Turnor Lake Project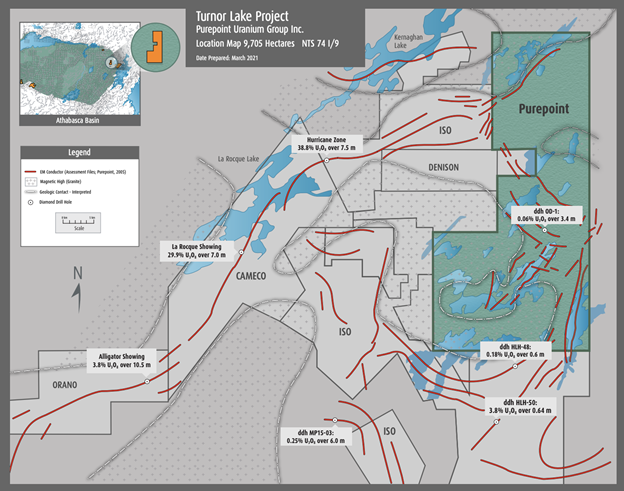 The Turnor Lake project is a 100-percent owned asset that consists of four claims totalling 9,705 hectares on the eastern side of Canada's Athabasca Basin. The property includes four defined exploration areas: the Serin Conductor, the Laysan zone, the Turnor Lake zone and the Turaco zone.
The Serein Conductor lies within the La Rocque corridor and hosts several major prospects including Cameco Corp's La Rocque showing and IsoEnergy Ltd.'s Hurricane zone, which reported results of 38.8 percent uranium over 7.5 meters. Purepoint has already conducted extensive geophysical programs to outline approximately 34 kilometers of conductors throughout the Turnor Lake project. The company intends to continue to explore this asset through technological modelling, targeting and geochemical discovery.
To learn more about Purepoint Uranium Group, go to https://purepoint.ca/
For more about the activity in the Athabasca Basin and to view the digital map, go to https://digigeodata.com/area/athabasca-basin/