About Quebec Nickel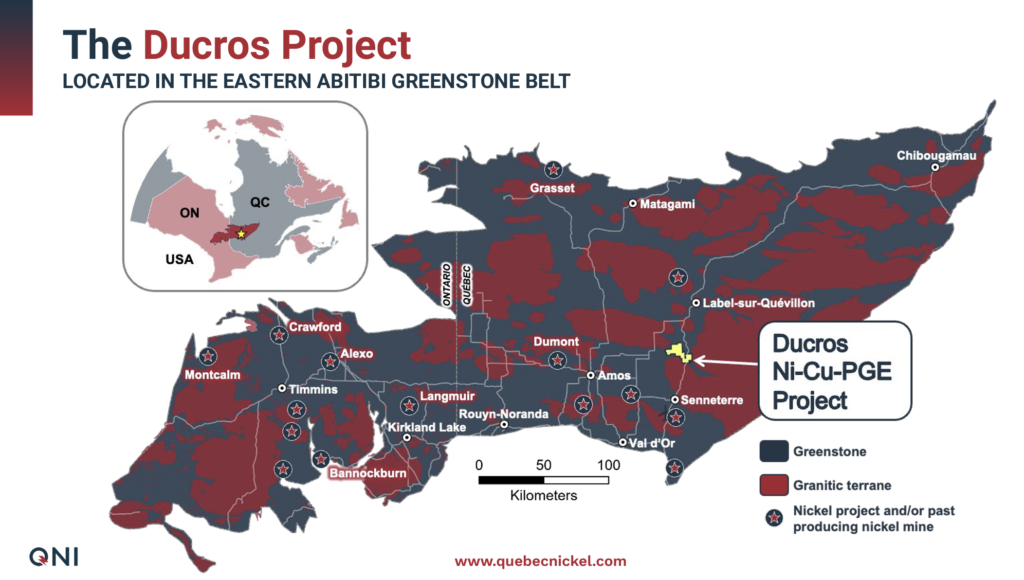 Québec Nickel Corp. (CSE:QNI) is a mineral exploration company focused on acquiring and exploring nickel projects in Québec, Canada. The Company has a 100% interest in the Ducros Property, consisting of 280 contiguous mining claims covering 15,000+ hectares within the eastern portion of the Abitibi Greenstone Belt in Québec, Canada.  QNI's objective is to discover Ni-Cu-PGE deposits by using modern exploration techniques and aggressive drilling programs.
Fortin Sill
Pyroxenite-hosted Ni-Cu-PGE surface showing with historical grab samples returning up to 2.64% Cu + 0.49 % Ni + 3.44 g/t Pt-Pd-Au
Historical drill intersections (2008) including 0.38% Ni + 0.44% Cu + 0.65 g/t Pt-Pd-Au over 20.7 metres
Nearby strongly sheared + quartz-carbonated veined mafic volcanic-hosted gold showing with historical grab samples yielding up to 24 g/t Au
Ducros Ultramafic Sill Complex
Limited drilling  in the 1980's encountered an interpreted 3.5 km long and up to 700-metre-wide ultramafic sill
Historical regional-scale Québec government geophysical data and GIS compilation work indicate over 30 line-kilometres of ultramafic sills with coincident or flanking electromagnetic anomalies have never drill tested. This interpretation has been confirmed and reinforced by the recently completed VTEM helicopter-borne electromagnetic-magnetic survey.
Ducros Gabbro
Poorly exposed ~ 5 km X 5 km mafic intrusion largely inferred from regional magnetic data
Interpreted to be emplaced along intersecting deep-seated regional structures
Magnetic data suggest the body is layered and/or multi-phased and has never been drilled
To learn more about Québec Nickel Corp., go to https://quebecnickel.com/
To learn more about the mining activity in the Kirkland Lake area and to view the digital map, go to https://digigeodata.com/area/val-dor/