About Sanatana Resources
Sanatana Resources (TSXV:STA) is a mineral exploration company led by a team with proven success in the discovery and development of world class mineral deposits. Sanatana is currently focused on prospective copper and gold properties in the Golden Triangle of British Columbia.
The Sanatana Resources management team has decades of combined experience in finance and mineral exploration. CEO Peter Miles has served as an advisor to a number of public and private companies in the natural resource sector, including Roughrider Uranium Inc. At the private stage, he financed Roughrider and was later instrumental in the Hathor Exploration Inc.'s acquisition of Roughrider by Hathor, which was later acquired by Rio Tinto plc in 2011 for US$654 million. President Buddy Doyle is a veteran geologist whose track record of success includes the discovery and evaluation of the Lihir Gold Mine in Papua New Guinea and the Diavik Diamond mine in Canada. Doyle is the recipient of the 2004 Hugo Dummitt award for Excellence in Diamond Exploration.
Recent appointee to Sanatana's Board of Directors, Tom Obradovich, has a veteran career that includes co-founding Canadian Royalties Inc. and upgrading and doubling the resource of Young-Davidson Mines which was acquired by Northgate Minerals in 2005. Mr. Obradovich became President and CEO of Barkerville Gold Mines in January of 2015 and was part of the team that turned the company into a debt-free mining and exploration vehicle with a market capital in excess of $200 million and $60 million. Mr. Obradovich career spans 38 years in mining exploration, development and financing and he is a graduate of the Haileybury School of Mines in Mining Technology and Advanced Field Geophysics.
Another recent appointee to the Board is Ms. Rose Zanic, who brings over 25 years of capital markets and corporate finance expertise. Ms. Zanic is currently a director of several Canadian publicly listed companies, including serving as audit committee chair. Ms. Zanic is also a member of the TSX Venture Exchange BC Local Advisory Committee.
Featured Project
Oweegee Dome Copper and Gold Project – An emerging Copper and Gold porphyry project in BC's Golden Triangle.
31,077 hectares in BC's Golden Triangle. A copper gold porphyry system lying within a region that is a proven host for exceptional copper-gold deposits.
Highlights
BC's Golden Triangle is a world-class gold and copper endowment in a politically stable jurisdiction with a long history of mining. Recent exploration success and significant M&A activity highlight the active growth potential including the Newcrest acquisition of Pretium / Brucejack for $3.5B and the Newmont acquisition of GT Gold / Saddle for over $400M.
Sanatana's initial interest in the Oweegee property was triggered by its Golden Triangle address and the phyllic alteration which was unusually elevated in copper and gold at Delta ridge.
This area had been previously drilled by 16 shallow holes looking for an Eskay Creek type VMS. The best intercept from historic work was 86.3 m of 0.10% Cu and 0.228 g/t Au. Sanatana interprets this to be possibly the top of a yet-to-be-unroofed copper/gold porphyry system with better grades at depth or laterally to this historic drilling.  Recent Discoveries include Brucejack, Iron Cap, Deep Kerr, North ROK, Saddle with exceptional deposits including high grade Au-Ag and VMS at Brucejack,  Snip, Premier, Eskay Creek and large tonnage Au-Cu and Cu-Mo porphyries at Red Chris, KSM, Galore Creek, Schaft Creek and Snowfield.
The property is located immediately adjacent to the Pretium, Seabridge and Tudor Gold Projects, with Hwy 37 and the NW transmission line (247kv) transecting the property. Recent glacial retreat has exposed unexplored ground and the Oweegee porphyry potential is only recently recognized and underexplored with strong copper/gold geochemistry hosted in porphyry-style veins along with IP and magnetic geophysical anomalies to be drill tested in 2022. The project is fully permitted for 2022 drill exploration program. The Oweegee Dome project is the subject of an option agreement between Sanatana and ArcWest Exploration Inc.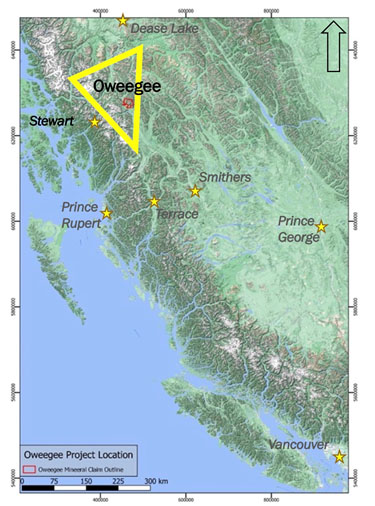 Oweegee Geology, Prospects & the Kyba Red Line
In 2013, BC Government Regional Geologist for Northwest BC, Jeff Kyba compiled a map that showed every significant deposit in the region occurs within approximately 2km of the Stuhini /Hazleton group contact, now known as the Kyba Red Line.
The Kyba Red Line has been recognized in two places at the Oweegee Dome. The northern exposure was recognized by previous work and the southern exposure is new (recognized by the 2021 exploration program). The Oweegee Dome occurs as a unique window of basement Stikine Terrane rocks surrounded by post-accretionary younger Bowser Lake Group rocks (beige), colour anomalies recently exposed by glacial retreat at Delta, Skowill and Glacier prospects have revealed vast exposures which have never been explored.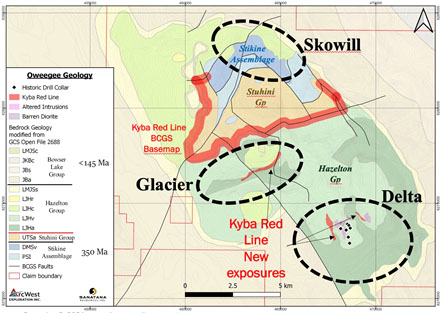 2021 Exploration at Oweegee Dome: Delta Ridge / Molloy Zone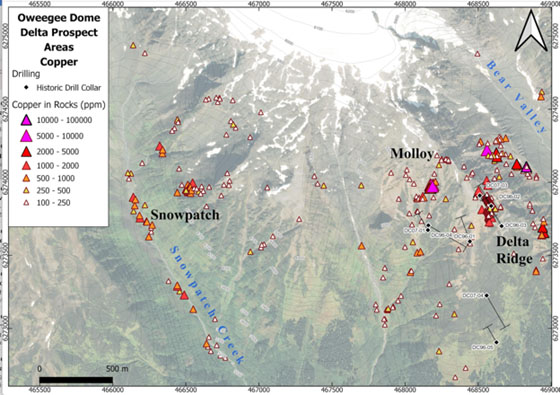 Figure 1 Recent and Historic rock grab samples assayed for copper. The symbol is sized and colour based on the assay result. Clustering of higher-grade samples demonstrate zones of greater interest, especially if porphyry style alteration and veining are noted. The phyllic altered Delta Ridge, the intensely veined Molloy Zone and the potassicaly altered Snowpatch zones are highlighted. UTM WGS84 Zone 9.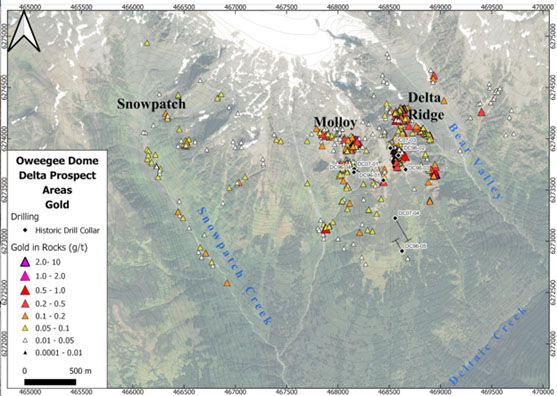 Recent and Historic rock grab samples assayed for gold. The symbol is sized and colour based on the assay result. Clustering of higher grade samples demonstrate zones of greater interest, especially if porphyry style alteration and veining are noted. The phyllic altered Delta Ridge, the intensely veined Molloy Zone and the potassicaly altered Snowpatch zones are highlighted. UTM WGS84 Zone 9.
The Molloy Zone has been identified as a distinct intrusive phase which hosts strong copper-gold porphyry style mineralization, it measures 42 metres at its widest point and 145 metres along strike until being concealed by talus and alpine heather to the southwest; 15 grab samples across this area averaged 0.34% Cu 0.829 g/t Au and 4.15 g/t Ag.
The Molloy Zone alteration assemblage is distinct from the surrounding phyllic alteration and is interpreted as a small window into copper and gold mineralized porphyry system buried beneath the phyllic alteration and further concealed up section by post mineral cap rocks. The high gold to copper ratios and the style of alteration and mineralization are visually similar to Kerr and Mitchell deposits of the giant KSM complex situated 45km to the east.
The Molloy Zone will be drill tested in 2022. Assay results and mapping highlight previously unrecognized diorite intrusions and the potassic altered, anomalous Snowpatch Creek and suggest the presence of multiple porphyry systems.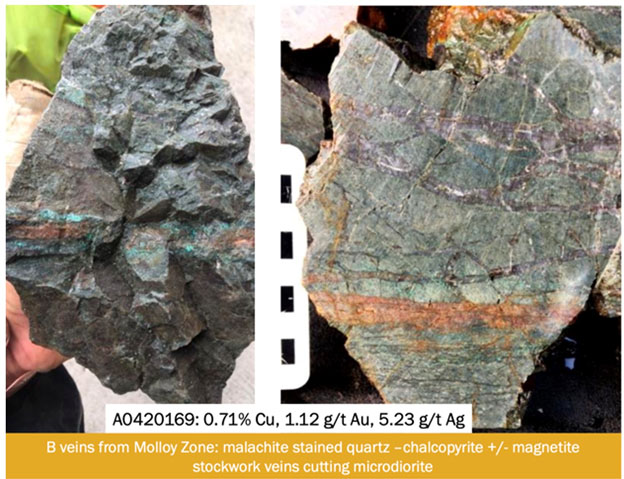 To learn more about Sanatana Resources, go to https://www.sanatanaresources.com/
To learn more about the activity in the Golden Triangle area and to view the digital map, go to https://digigeodata.com/area/golden-triangle/
To learn more about the activity in the Timmins area and to view the digital map, go to https://digigeodata.com/area/timmins/