About Straight Up Resources
Straight Up Resources Inc. (CSE: ST) is a public company engaged in the business of mineral exploration and the acquisition of mineral property assets in North America. Our primary objective is to locate and develop economic precious and base metal properties of merit and to use recent data found to create a work program on our RLX North and RLX South property package, located within the Red Lake Greenstone Belt of Northwestern Ontario. Both Properties form a land package of over 10,000 hectares surrounding Great Bear Resources' Sobel property. In conjunction with this, we will continue to work on the Belanger property as we plan to conduct a 2021 drill program to follow up with recent work that has been completed.
Red Lake Project
Ontario's Red Lake Mining District is one of Canada's most prolific gold mining districts, renowned for high-grade gold deposits.
This is a mining-friendly, politically stable jurisdiction with a skilled labour force and infrastructure specifically built around meeting the needs of the mining industry.
Project Location – Red Lake Nearly 30 million ounces of gold has now been produced from the district and gold production has been continuous since it was first discovered in the late 1920s.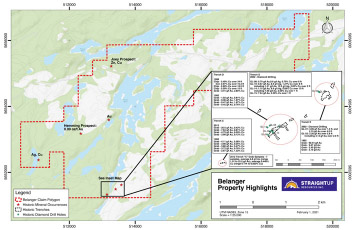 RLX North & South Highlights
On-strike to the SE of the district's largest gold deposit (Red Lake Gold Mines – Evolution Mining).
Inferred presence of major lithological contacts and structural controls.
The project is adjacent to Great Bear Resources' Sobel Project. Great Bear Resources is also in the process of evaluating the area for significant regional-scale structural controls and has proposed additional work on their neighbouring project in the near term (see GBR news release dated September 9, 2020)
Highly accessible, the southern property boundary is only 8 km from the paved highway into Red Lake and can be accessed by forest service roads which traverse throughout the properties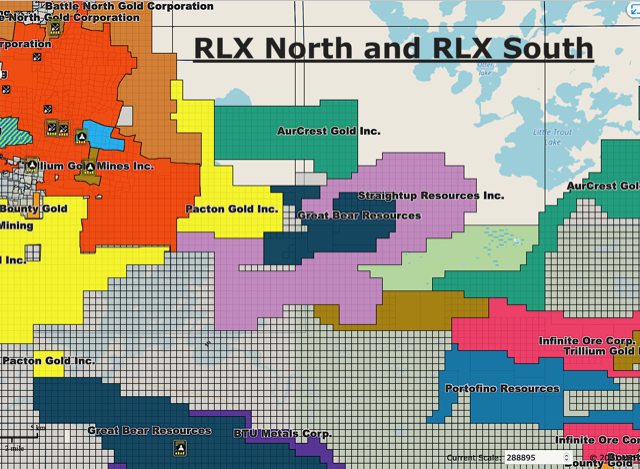 Belanger Highlights
Excellent forest road access from the town of Ear Falls
Historical exploration work (mechanical stripping, diamond drilling) on the 2,000-hectare property has identified a significant Au-Ag-Cu showing that is exposed on surface in three trenches along ~600 meters of strike
Gold values up to 60.44 g/t Au, copper values up to 5.47%Cu in selective grab samples.
7 grab samples collected from Trench "C" in 2012 averaged 6.8 g/t Au (range 1.01 g/t Au to 25.0 g/t Au) – notably, this trench has never been tested.
2020 chip samples returned values of 24.8g/t Au over 60cm, 6.21g/t Au over 20cm, 5.80g/t Au over 82cm at Trench "E" and grab samples up to 2.94g/t Au. Trench "C" chip samples returned 3.88g/t Au over 90cm, 1.97g/t Au over 40cm, and grab samples returned up to 2.36g/t Au.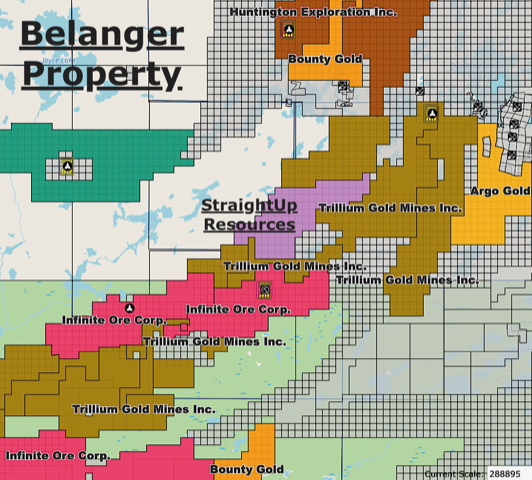 Ferdinand Highlights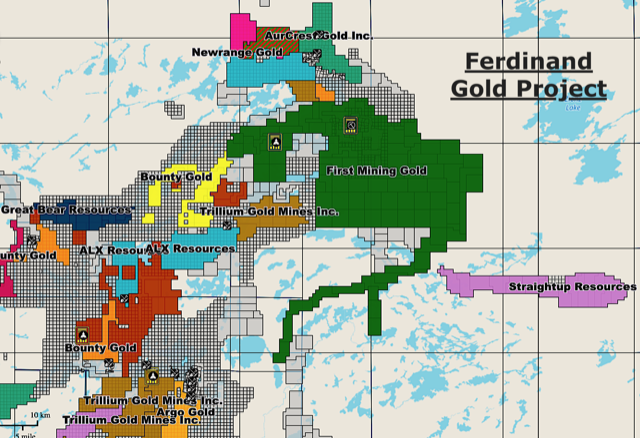 **PLEASE NOTE: The Ferdinand Project was missed because our Fact sheet isn't up to date. Sorry.
To learn more about Straight Up Resources, please go to https://www.straightupresources.com/