About Torr Metals
Torr Metals Inc. (TSX.V: TMET) is a well-funded mineral exploration company bringing new perspectives to a prolific copper and gold porphyry trend within the Golden Triangle area of northern British Columbia. The Company is focused on exploring the substantial resource and exploration potential of its 100% owned district-scale ~689 km2 Latham Copper-Gold Project, located within the direct shadow of copper-gold porphyry giants at Newmont's Saddle North deposit and the Red Chris Mine held by Imperial Metals and Newcrest Mining. The Latham Copper-Gold Project is situated approximately 25 km south of the airport at Dease Lake and is crossed by Highway 37, which provides direct year-round access. The Company's Gnat Pass copper-gold porphyry deposit has a non-compliant indicated resource of 33 Mt @ 0.39% copper that remains open along-strike as well as at-depth, with untested gold soil anomalies allowing for improved economics. Additionally, fieldwork and data compilation during the maiden 2022 exploration program has delineated the Dalvenie and Hu zones, which are both road-accessible and exhibit kilometre-scale copper-gold mineralization with multiple untested epithermal and porphyry targets. With another +11 known at-surface copper-gold-silver-molybdenum occurrences and +16 grassroots exploration targets the Company has no shortage of targets, with a planned 2023 drill program at Gnat Pass, Dalvenie, and Hu providing multiple potential near-term catalysts.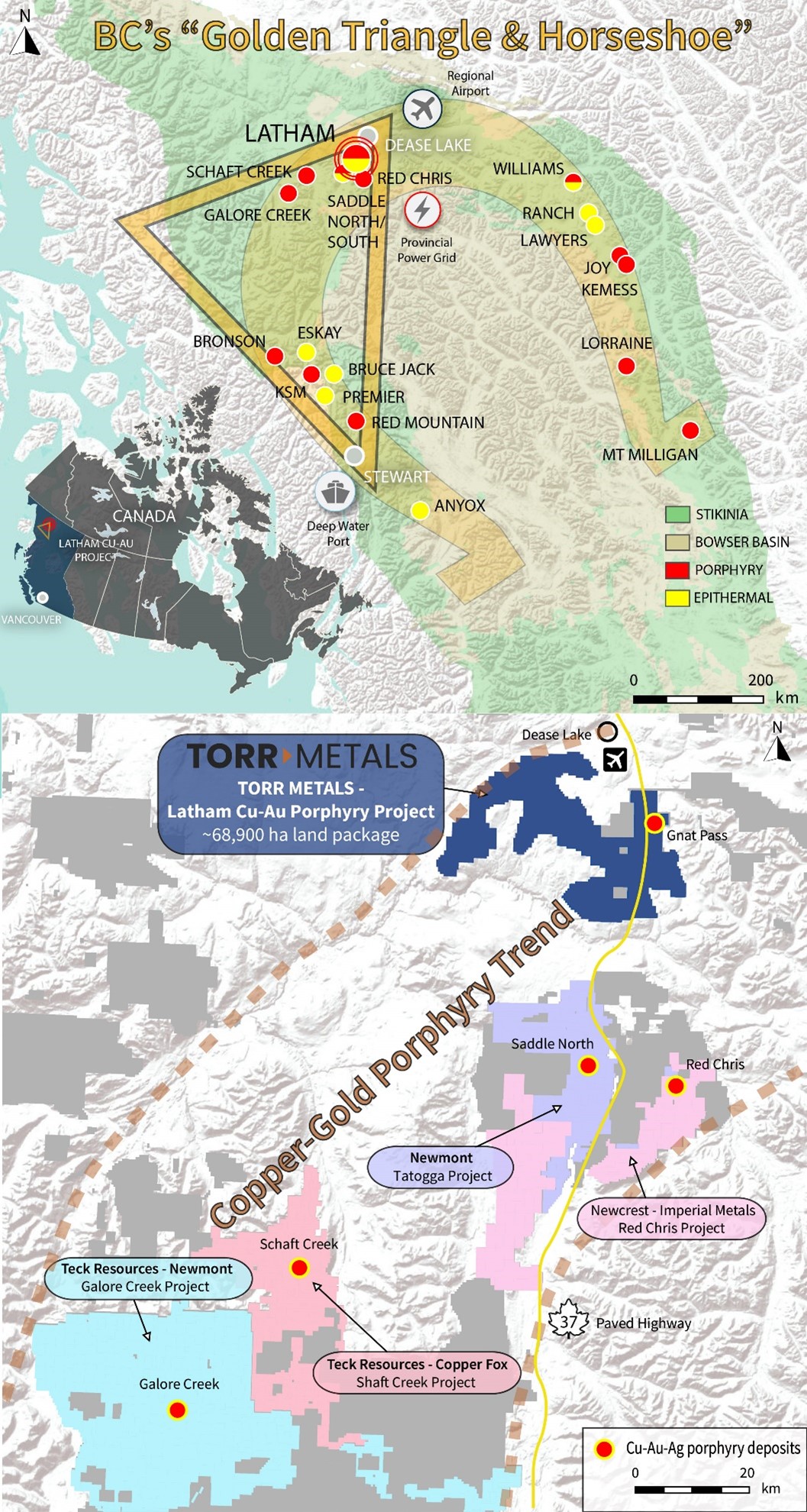 Latham Copper-Gold Project
The Property area has a lengthy history of exploration activity with the first recorded mineral claim staked in 1899 during the Dease Lake gold rush. The bulk of the historical exploration consisted of geological mapping, geochemical sampling, trench work, drilling, and geophysical surveys with 15 operators focused mainly on the Gnat Pass deposit. This work was for the first time extended to a systematic regional exploration program in 2011 that quickly led to the initial discoveries of numerous occurrences and prospects throughout what is now the Latham Property. Many of these occurrences warrant further exploration as they remain untested by drilling but feature surface mineralization, alteration, host rocks, and geophysical signatures comparable to the regional geological settings of nearby copper-gold porphyry systems at Galore Creek, Schaft Creek, Saddle North, and Red Chris. With a robust historical dataset Torr Metals is well situated to rapidly advance the Latham Copper-Gold Project, with significant upside potential for future major discoveries.

To learn more about Torr Metals, go to https://www.torrmetals.com/
For more on the activity in the Golden Triangle area and to view the digital map, go to https://digigeodata.com/area/golden-triangle/