About Xander Resources
Xander Resources is a junior exploration firm focused on unlocking accretive Gold, Lithium, and other mineral resources within Canada. Xander Resources is publicly listed on three stock exchanges under the following symbols (TSX.V:XND) (OTCQB:XNDRF) (FSE:1XI). Xander has successfully positioned itself in three active gold camps and one prospective Lithium site located in the heart of Quebec's prolific Abitibi Greenstone Belt. The Abitibi Greenstone Belt extends from Wawa, Ontario to Val-d'Or, Quebec and is an established world-class gold belt having produced over 100 mines and 170 million ounces of gold since 1901.
Xander holds unique interests due to its small (yet well-funded) under $5M market capitalization. Often mineral exploration stocks will trade at low market capitalizations before confirming gold reserves, with their share price increasing significantly as they reach higher valuations. Xander's management team and advisory board has global experience and proven success with gold discoveries.
Our Team
Xander Resources has assembled a strong core management team comprised of CEO James Hirst BComm, Corporate Secretary Dwayne Yaretz, CFO Zara Kanji CPA, Director Benoit Chotard PEng, MBA and Director Marsha Panar. Mr. Hirst is a business executive with over 40 years' experience in corporate governance in Canada and the United States. Mr. Yaretz is a seasoned entrepreneur with more than 25 years' experience in corporate leadership having acted for several private and publicly traded companies in various capacities including President, CEO and Corporate Secretary. Ms. Kanji CPA is experienced in financial reporting compliance for junior listed companies, taxation, general accounting, financial reporting and has served as director and officer for listed issuers providing reporting compliance services for financing and acquisitions. Mr. Chotard PEng, MBA has over 25 years of international corporate finance, management, and public market expertise. Ms. Panar has served as a director of several listed companies since her retirement from public service with the Government of British Columbia.
Xander Resources is backed by a top-class advisory board. Members include Michael Dehn, a 25 year mining exploration veteran. Eric Allard P.Eng. with 20 years of experience as a geological engineer in the exploration industry. Donald BaxterP.Eng. one of the premiere graphite experts in Canada. Mr. Baster, P.Eng. has built two of the leading graphite producing mines within North America. Paul McGuigan, P.Geo. a professional Geoscientist with 45 years of international economic geology and mineral exploration experience.
Our Projects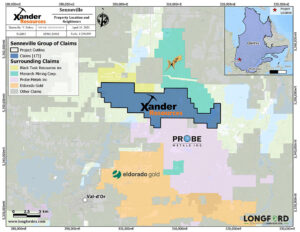 Xander Resources currently has three separate properties, the Senneville Claim Group, the  Fenelon Blue Ribbon Gold property, and the Urban Barry Bachelor North property. The Senneville Claim Group in the Val-d'Or Gold Camp is comprised of 210 claims (123 sq km). Referenced as Senneville South  9 claims, Senneville West 139 claims, and Senneville East 62 claims. The Fenelon Gold Camp is considered by many gold experts to be the next major gold producing district in Canada and has sparked great exploration interest, due to the exploration successes of the Wallbridge Mining, Midland Exploration, Probe Metals. Great Thunder Gold and Goldseek Resources. The Bachelor North property in the Urban Barry Gold Camp is one of the most active exploration camps in the world. The camp currently hosts 8 million ounces of gold with area investment by a major (Kirkland Lake Gold) in both Osisko Mining and Bonterra Resources.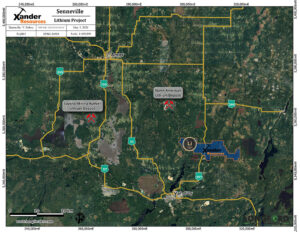 Xander's current mineral claim package has identified a well-positioned Lithium exploration area at the fringe of the La Corne Batholith 30 km North of Val-d'Or, Quebec where Xander currently holds a contiguous land package of over 29,500 acres. On trend to the west is Sayona Mining's flagship Authier Lithium Project, and to the northwest is the North American Lithium Deposit. Great Thunder Gold, First Energy and Musk Metals are all active in the area conducting Lithium exploration and development.
Of the Gold and Lithium related industries, mining companies have tremendous potential. Xander resources has positioned itself in the prolific area of Quebec to take advantage of the accredited value of the Abitibi Greenstone Belt. With Xander's exceptional property set, strong management core, and small, but well-funded under $5M market capitalization , Xander Resources is well positioned to grow and explore further ventures within Canada.
For more information, contact Dan Samartino [email protected]  or visit https://xanderresources.ca/
To learn more about the Val-d'Or area, go to https://digigeodata.com/area/val-dor/