DigiGeoData (DGD) provides several products for their clients in the mining industry and well as financial sector (please visit digigeodata.com for details). DGD recently introduced a new data product, DigiGeoAtlas, which features a live integrated claim data layer that seamlessly covers all Canada. DGD compiles raw claim data from various sources standardizing the field names and the values along with DGD value-added fields. There are 5 types of claim layers: mineral claims, placer claims, industrial claims, recently staked claims and expiring claims.
As of July 31, 2019, Canada has approximately 95 million hectares of lands granted for mining and exploration by the provinces and territories. This represents about 10% of the total land area of the country. The provinces with the most coverage include Ontario, Quebec, British Columbia and Yukon with a combined total of just over 40 million hectares (42%) of the mining and exploration total. Although Nunavut represents 34% of total lands staked in Canada (32 million hectares), most of it is covered by larger prospecting permits and coal exploration licenses which average about 1000 hectares.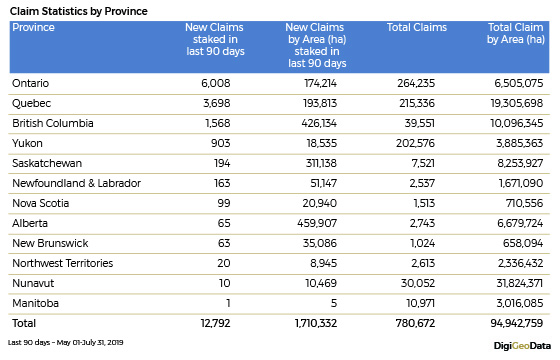 DigiGeoAtlas's recently staked claims layer was used to analyze the recent claim staking activity in Canada and it indicates an increase in staking activity due to the recent increase in market activity. Approximately, 1.7 million hectares of lands (12,792 mineral claims) were staked for exploration in the last 3 months.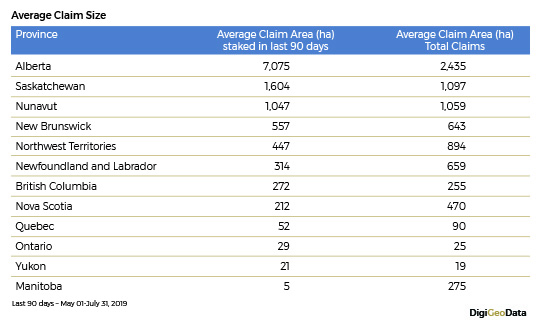 The 4 most active provinces were Ontario, Quebec, British Columbia, and Yukon in this period with 12,177 mineral claims, adding over 810,000 ha.
There was also a noticeable increase of lands staked for mining in Alberta and Saskatchewan in the period where almost 460,000 ha and 310,000 ha of newly staked mining lands were reported in these two provinces respectively. This accounts for the largest size of claims (about 7,000 ha on average) exploring industrial minerals and aggregates in Alberta and the second largest claims (about 1,600 ha on average) in Saskatchewan.
DigiGeoData (DGD) has identified mining hot‐play map areas based on the mining camps, active properties and assets as part of its DigiGeoMaps product. DGD continuously monitors exploration activities in these active mining regions of Canada providing updated data in digital and hardcopy maps. All these area maps except Flin-Flon were very active in claim staking in the last 90 days with the Yukon, Red Lake, Windfall Lake and Timmins map areas being the most active.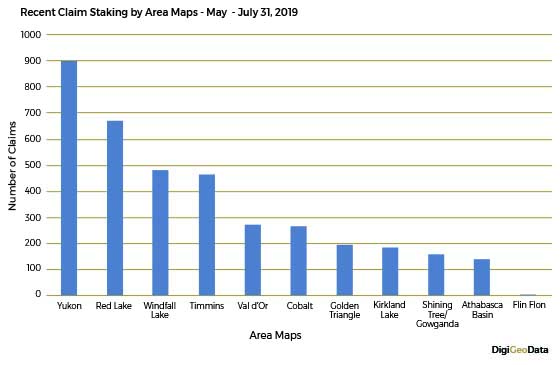 DigiGeoAtlas's claim analysis further outlined landholdings of each company and the top 10 landholders by total claims are given below for the new staking activity.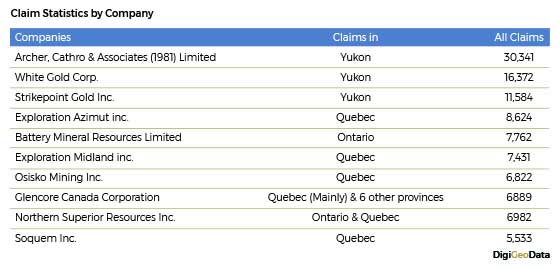 DigiGeoAtlas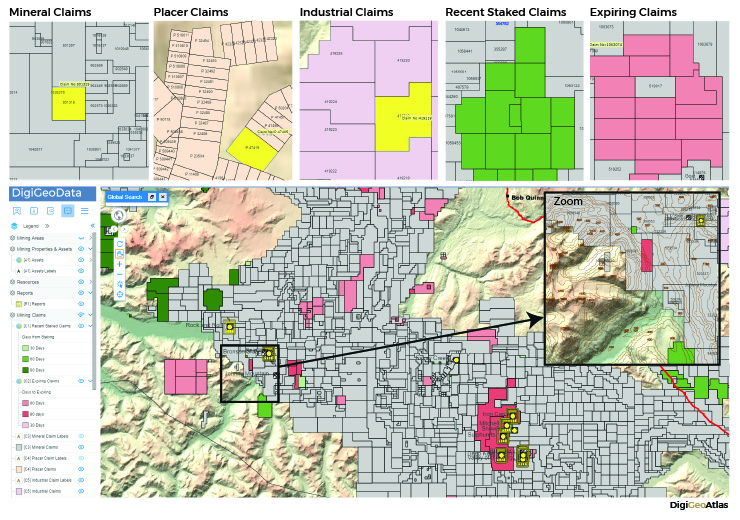 Visit digigeodata.com/solutions/didigeoatlas/ or map.digigeodata.com for details.